I am not very good at creating logos. I have always wanted a logo that combined two existing logos.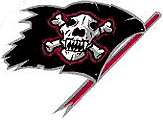 and

I like the tattered flag of the first logo, but I like the idea from the Buccs, of the sword. I would like if at all possible for a black helmet with a red, or dark crimson (blood) color for the flag with the wolf skull and cross bones.
I have tried using the pay sites for helmets, and they alwasy tell me they can't touch copyrighted logos.
They try thier own design and they all suck. So I am here asking for your help. If this can't be done, I understand. Thanks for trying.