Opening Round Match Up featuring #8 seed Queen vs. #57 seed Blue Oyster Cult. Two classic rock artists, one much more known then the other, battling it out. Voting ends Tues. at 8pm EST.
Queen
Queen were pioneers of glam rock/arena rock, Queen began in the early 70s in England. Queen was fronted by Freddie Mercury from 1970 until his death in 1991. Mercury's death due to AIDS helped raise awareness worldwide. Mercury had a distinctive and unique voice capable of spanning several octaves. Perhaps the most famous Queen song is "Bohemian Rhapsody", and much of its popularity with younger generations is due to a scene in the movie Wayne's World. Hit songs include "Another One Bites The Dust", "We Are The Champions", "Fat Bottomed Girls" and "Crazy Little Thing Called Love".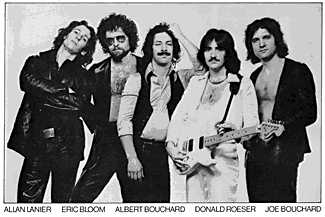 Blue Oyster Cult
Blue Öyster Cult is an American psychedelic/heavy metal band formed in the late 1960s and active as of 2006. They are probably best known for two songs: their 1976 single "(Don't Fear) The Reaper" from the album Agents of Fortune (featured in the cult movie Halloween and in the TV movie The Stand based on Stephen King's novel of the same name), and their 1981 single "Burnin' for You" from the album Fire of Unknown Origin. Their song "Veteran of the Psychic Wars," with lyrics penned by Author Michael Moorcock, appeared in the soundtrack of the movie Heavy Metal. Two other well-known songs are "Godzilla" (1977) from Spectres, and "Astronomy" (1974) from Secret Treaties; the latter was covered by Metallica on 1998's Garage Inc..