1)
Oakland
- JaMarcus Russell, QB - LSU -
The Raiders take a chance and go with a Daunte Culpepper clone to try and rebuild this once-glorious franchise
.
2)
Detroit
- Joe Thomas, OT - Wisconsin -
The Lions decide to go with a franchise left tackle, in hopes that Thomas can protect a future franchise QB, whenever that comes along
.
3)
Cleveland
- Adrian Peterson, RB - Oklahoma -
Time to get the franchise RB the Browns need to build around. Crennel will want defence, but this call is made from higher up
.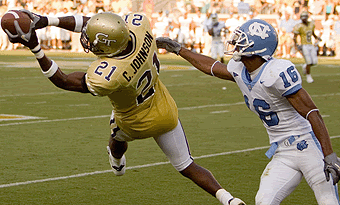 4)
Tampa Bay
- Calvin Johnson, WR - Georgia Tech -
The Bucs have many holes, but they need a wideout. Joey Galloway is aging like fine wine, but he can't keep it up forever. And Michael Clayton seems light years from his rookie breakout season of '04. CJ is a freak and has limitless potential. In a few years this will look like a steal
.
5)
Arizona
- Jamaal Anderson, DE - Arkansas -
The Cards grab a guy rocketing up the draft boards. Anderson is another college junior with huge upside
.
6)
Washington
- Gaines Adams, DE - Clemson -
The Skins get a star player to anchor their D-Line for years to come
.
7)
Minnesota
- Dwayne Jarrett, WR - USC -
Jarrett is a playmaker. If young QB Tarvaris Jackson is going to succeed in Minny, he'll need more guys like Jarrett
.
8)
Houston
- Brady Quinn, QB - Notre Dame -
It's a good thing Quinn was exposed to the national pressure-cooker that is Notre Dame, 'cause the Texans passed up on hometown hero Vince Young (never mind Reggie Bush) last year. And now, Brady, you get to replace David Carr and get compared to whatever Young does the rest of his career -- good luck
.
9)
Miami
- Alan Branch, DT - Michigan -
Branch falls pretty far, but the Fins are pleased to grab a run-stopper for their line at this spot
.
10)
Atlanta
- LaRon Landry, S - LSU -
The Falcons get the help in the secondary they need
.
11)
San Francisco
- Dwayne Bowe, WR - LSU -
Antonio Bryant and Arnaz Battle are not the answer. The Niners give Alex Smith a deep threat for the long haul in Bowe
.
12)
Buffalo
- Leon Hall, CB - Michigan -
The Bills' signature has always been defence, and they are working on rebuilding their secondary, after picking Donte Whitner with last year's first pick. Nate Clements could be on the move, so the Bills counter by drafting a replacement CB
.
13)
St. Louis
- Amobi Okoye, DT - Louisville -
The Rams go for help on defence. Okoye may be one of the best prospects in this draft
.
14)
Carolina
- Patrick Willis, LB - Mississippi -
Carolina doesn't have the option to get a QB here, so unless they trade down and get Troy Smith later, they go for defence. MLB Dan Morgan's career is teetering due to injuries, so Willis is the Panthers' insurance for him
.
15)
Pittsburgh
- Levi Brown, OT - Penn St. -
The Steelers go for help on the offensive line with Brown. They need to protect Roethlisberger down the road
.
16)
Green Bay
- Marshawn Lynch, RB - California -
The Packers enter a new era, possibly without Ahman Green. Lynch replaces Green as the go-to back, because Noah Herron and Vernand Morency are not the answer
.
17)
Jacksonville
- Tedd Ginn Jr., WR - Ohio St. -
The Jags are entering Matt Millen territory here, picking a WR in the first round for the third time in four years. Since there are no formidable QB's left, they try and improve the offence with Ginn. He helps in the return game as well, since Jones-Drew may be the featured back in '07 and won't return kicks. Trading Fred Taylor for a day one pick, and then trying to trade their second rounder for ATL QB Matt Schaub is a huge possibility, unless the Jags reach for Jeff Garcia in free agency
.
18)
Cincinnati
- Darelle Revis, CB - Pitt -
The Bengals need help in their secondary, with Tory James out as a free agent and Deltha O'Neal fading fast. Revis teams with last year's first pick Jonathan Joseph to form a lethal combination for years to come
.
19)
Tennessee
- Reggie Nelson, S - Florida -
The Titans address their needs in the secondary and are pleased to get Nelson, who falls pretty far to them
.
20)
New York Giants
- Paul Posluszny, LB - Penn St. -
The Giants need linebackers in a bad way with the off-season purge of Arrington and Emmons. Posluszny is just the player the G-Men need
.
21)
Denver
- Michael Griffin, S - Texas -
Mike Shanahan knows he must be prepared for the eventual loss of John Lynch. Griffin is groomed for one season and then takes over
.
22)
Dallas
- Justin Blaylock, OT - Texas -
The Cowboys' O-line was horrendous. Tony Romo needs more time, so they go get him an in-state product to anchor the line
.
23)
Kansas City
- Robert Meachem, WR - Tennessee -
Sure, the Chiefs need help on the O-line too. But I'm sure Trent Green could use a #1 receiver. How long can Eddie Kennison be #1? Samie Parker is not developing into a #1 target, either. Meachem is the real deal and a great pick here
.
from
24)
New England

(from Sea)
- Lawrence Timmons, LB - Florida St. -
The Patriots address a need in the middle of their defence with Timmons. Bruschi and Seau are entering the twilight of their careers. This is the pick they got for Deion Branch. I wish things worked out for me as good as they do for the Pats
...
25)
New York Jets
- Daymeion Hughes, CB - California -
The Jets resist the temptation to go with a RB (They may have worked a trade out by this time) so they go with the secondary instead with Hughes
.
26)
Philadelphia
- Adam Carriker, DE - Nebraska -
Philly addresses a need on the defensive line, but could easily go for a LB here as well
.
27)
New Orleans
- Marcus McCauley, CB - Fresno St. -
The Saints have to address the CB spot; Mike McKenzie is 30, Fred Thomas is 34. Did you see how overmatched Thomas was vs. the Bears in the NFC Championship game? -- 'nuff said
.
28)
New England
- Sidney Rice, WR - South Carolina -
It has become painfully clear that this offence needs wide receivers. This draft is deep in them, so the Pats get a good one with Rice
.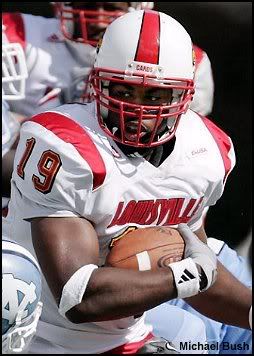 29)
Baltimore
- Michael Bush, RB - Louisville -
The Jamal Lewis era is over in Baltimore. After seeing Steve McNair self-destruct in a playoff game vs. the Colts, Brian Billick realizes he needs a better running game
.
30)
San Diego
- Brandon Meriweather, S - Miami -
The Bolts replace the departing Terrence Kiel with another player with off-field issues. But Meriweather has a greater upside that's too good to resist
.
31)
Chicago
- Greg Olsen, TE - Miami -
The Bears grab the best TE in the draft, mainly because he won't be there when they pick again
.
32)
Indianapolis
- DeMarcus Tyler, DT - N.C. State -
The Colts need run-stoppers, and luckily for them this draft is deep in DT's
.