Prince's Defense Analyzer - How it's calculated:
Hello all, reviving this column after a year off. Several years ago, I figured out that a defense that allows fewer points is great in real life but really a terrible predictor of how good they are fantasy wise. Same thing goes with being good as a rushing or passing defense. Great at stopping opponents, but not necessarily predictive of fantasy production. The analysis I did was in 2007-2009 and I stopped doing them after that because the results were always the same. The figures are summarized below.
The figure below shows the Points Against (y-axis) versus the average fantasy points produced by the team (average is right around 6.5 points per game). The 'correlation' is only 0.25 (1 is perfect correlation and 0 is absolutely no correlation).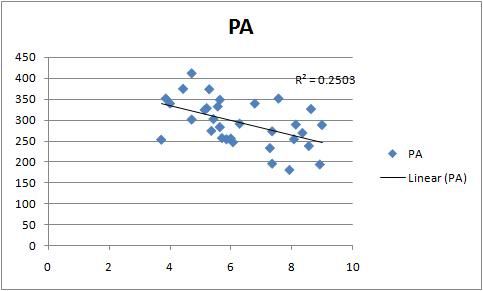 The figure below shows a combination of turnovers and sacks (y-axis) compared to the average fantasy production of the team (x-axis). As you can see, there may be an outlier or two but basically, calculating the turnover and sacks that the team produces highly correlates with the DST fantasy output of the team in question. The r-squared is 0.73 which statistically is excellent!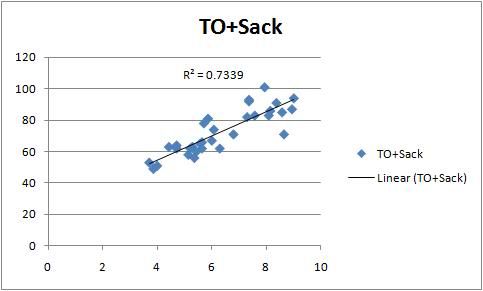 For the record, turnovers alone had a correlation of 0.59 and sacks had a correlation of 0.30.
I analyzed all different combinations of data including touchdowns, safeties, etcetera and could not improve upon the correlation of 0.73 and all other additional information only reduced the predictive power of the analysis.
So basically, a team that is good at creating turnovers and sacks are more likely to have touchdowns and other things happen and their score is more likely to be better. A team that gives up tons of turnovers and sacks will also be a nice matchup for the defense.
The defense analyzer then looks at each week's matchup, uses updated NFL.com statistics to determine the average weighted value of turnovers and sacks for the defense and their match-up offense and then I sort to provide the list.
In the future, I'll just link to this post rather than continuously posting how the analyzer works.
Thanks,
Prince