Last week's post:
viewtopic.php?t=506682
Last week's analysis:
YAHOO AND ANALYZER: SF (11), GB (16), ATL(13), HOU (12), DAL (11), BAL(6), KC(-1)
ONLY YAHOO: OAK (-2), PHI (9) , PIT (5)
ONLY ANALYZER: ARI (16), CIN (5), NYJ (10)
So the Analyzer's top 10 had 7/10 that had break out weeks of 10+ points. That's a record for the analyzer. And this was the first week that the analyzer legitimately beat out the Yahoo rankings having 7/10 above average games to Yahoo's 6/10 (even if PHI has an above average game, the analyzer would still win). Most notably, of teh teams that both the analyzer and Yahoo selected, 5/8 had break out games. It's noteworthy that ARI got bumped up in my rankings by looking at the matchup vs. STL.
MIA had a breakout game vs. KC which neither picked and I think was a bit of a shock (including KC's -1 vs. MIA which shocked me). NYG also had 11 points vs. NE which neither system predicted. I had said previously that NYJ, BAL, GB were probably worth the start every week and they had 10, 6 and 16 points. SF, NYG, DET, PIT were on my list of teams I would only sit for good reason and had 11, 11, bye and 5 points.
Overall for the season, it looks like the analyzer and Yahoo were pretty well matched. So onwards!
DEFENSE
Turnovers/Sacks are the most reliable predictor that I can find for above average and breakout games. Other additions into the analysis only served to reduce reliability. The following lists are the rank, the defending team, their matchup for the week, the average sacks/turnovers obtained by the defending team, the same given up by their matchup and then the overall score. These are averages which consider the number of games played as some teams have now gone through bye weeks.

PASSING AND RUSHING DEFENSE:
The NFL ranks passing or rushing defense based on yards per game. However, from a fantasy perspective, TDs and turnovers are weighted much more heavily than yards in most fantasy leagues. Thus, the NFL's ranking doesn't always make sense. The following fantasy passing ranking is based on 1 point per 25 yards, 6 per TD and -2 per turnover. It does NOT take into account the matchup for the week.
Each line shows my rank, the team, the NFL's rank, the average score they are yielding opposing passers, and the toughness of their schedule so far this year. For example, the NYJ are my number 1 passing defense, they are the NFL's number 7 ranked defense. They are yielding opponents only 8.3 points per game on average and have faced the 20th toughest schedule so far.
You should also note that this is passing only and if your qb has good legs, look also at the rushing rankings.
You should also note that this doesn't take into account their opponent that week.
PASSING

It's interesting to note that most of the top 10 passing defenses have had fairly light schedules but JAC is ranked 8th by the NFL, 10th by m but has had the 3rd toughest schedule. Also interesting is taht the NYG are ranked 17th by the NFL but have only yielded 9 TD in 8 games and have 10 picks. That's just a hair over 1TD per game. Compare that to PHI who the NFL has ranked 9th. The Giants yield 238 ypg and the Eagles yield 211 ypg. But the Eagles have given up 14 TD and 8 picks in 8 games. ALthough yes, they have yielded 24 more yards per game, in fantasy terms, the TD and Picks difference is pretty big. SD is ranked 4th by the NFL for giving up only 191 ypg but they have yielded 15 TDs through the air with only 8 picks.
RUSHING:
Based on 1 per 10 yards, 6 per TD, -2 per fumble.
For example SF is my number 1 rushing defense, ranked 11th by NFL, giving up an average of only 5.3 ppg to opposing rushers but with the easiest schedule this year.
MIA is probably under-rated by the NFL at 14th. While they are yielding 110 ypg they have only given up 3 rushing TDs all year long. SF continues to be the only team in the NFL that hasn't yielded a rushing TD now in 8 weeks (there's a typo on the sheet on nfl rank, sorry). GB is a beast! They've had the toughest schedule of the year for opponents faced from rushing power but are in the top 10 against the run in my and NFL's ranking.
DEFENSES
My definition of a 'stud' is that you play them no matter their matchup. Arian Foster you'd start even if they were facing the best rushing defense in the league. Same with AP. Well the same can probably be said of defenses too. I considered NYJ, BAL and GB to be fantasy studs and SF, DET, NYG, and PIT to be 'need a good reason to sit' around week 4 of this season.
But why not use some data?
The figure above shows the defensive output by team by week. Remember each team has a bye as well.
BAL and SF are actually tied on the average number of points yielded and if you lok at SF, they had only one game of 5 points or less. SF is a STUD. BAL is studly but they did have 3 games of 6 points or less out of eight.
The JETS, DET and GB did end up rounding out the top 5 but not on my list of 'studly' is CIN. Looking at their production, they have had 4/8 games with 6 points or less but also 4/8 games with 10+ points or break out games. BUF is really hit or miss eh? Two goose eggs and a 5 offset by a bunch of breakout games.
I had considered the giants to be 'studly' and if 6ppg or less is the league average, they have been above average nearly every week this season.
I had though tof GB as a stud and they really haven't had many 'bad games'. They had two weeks with only 6 points but otherwise have consistently been in the teens.
DET also fluctuates quite a bit with two 20+ point games and an 18 point game but a bunch of slightly above average games.
Thus, I think I'd put BAL, SF, NYJ, DET and GB into the 'stud or studly' category. No matter the matchup, they should probably be started. CIN, BUF, CHI, HOU and NYG are also very solid defenses but you might consider matchup with those.
It was pointed out last week that STL and IND have yielded a lot of points to opposing defenses.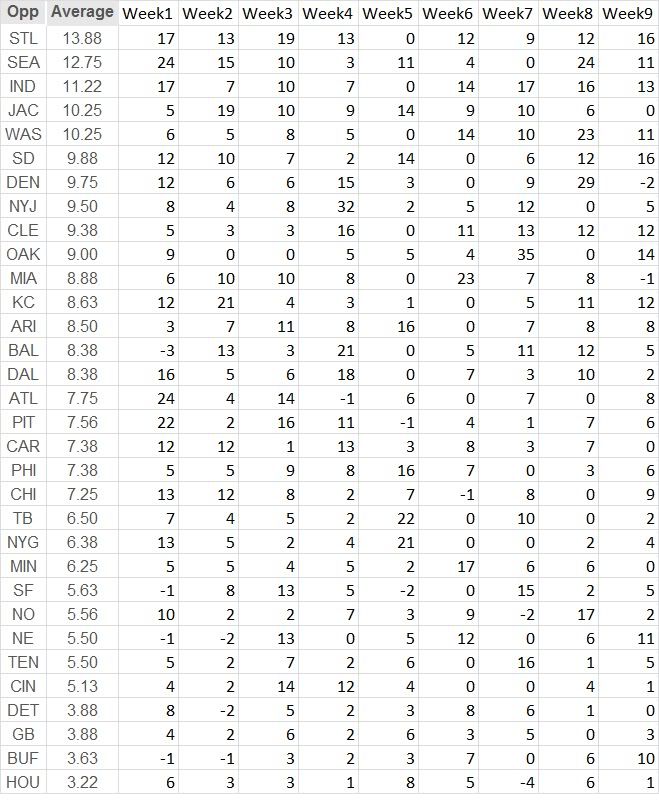 The above figure shows the opponent and how many points they have yielded to the defenses.
STL is a great matchup every week. They have yet to yield a below average outing to a defense facing them and all but one week they have yielded break out games. SEA is also a great matchup nearly every week. Two games of below average but many games of break-out games. IND has not yielded a below average outing and has given out 10+ points every week but two. JAC has given 6/8 above average games as well. WAS has been particularly giving the last 4 weeks (Grossman's collapse) and break out weeks for four weeks in a row. SD has yielded a lot of turnovers this year (Rivers butter fingers). 5/8 games are break out games and only one below average game. The Jets are up there for really one bad game and a smattering of slightly above average games as a matchup.
I think it's also worth noting that CLE has yielded 5 straight break out games to defenses.
Interestingly enough IND plays JAC, CLE plays STL this week.None of those crack my top 10 as matchups. SEA plays BAL and that's already listed.
So my adjusted top 10 would be:
1) BAL
2) DET
3) NYJ
4) SF
5) BUF
6) GB
7) MIA plays WAS (4 straight 10+ point games given out).
8) JAC plays IND (5 out of last 6 weeks, 10+ games)
9) CLE plays STL (7/8 weeks of 10+ games)
10) STL plays CLE (giving up 10+ games in last 5)?
Let's see what Yahoo says