Last week's post:
viewtopic.php?t=507581
Last week's analysis:
YAHOO:
1) BAL:1
2) PHI: 14
3) GB: 15
4) SF: 6
5) DET: 4
6) JAC-18
7) KC: 1
8) HOU: 16
9) NYJ:1
10) MIA: 11
Analyzer:
1) BAL: 1
2) DET: 4
3) NYJ: 1
4) SF: 6
5) BUF: -4
6) GB: 15
7) MIA: 11
8) JAC: 18
9) CLE: 9
10) STL: 8
YAHOO AND ANALYZER: BAL 1, DET 4, NYJ 1, SF 6, GB 15, MIA 11, JAC 18
YAHOO ONLY: PHI 14, KC 1, HOU 16
ANALYZER ONLY: BUF -4, CLE 9, STL 8
The Yahoo and Analyzer had 4/7 games that were above average and 3/7 break out games
Yahoo total had 6/10 above average and 5/10 break out games.
Analyzer had 5/10 above average games and 3/10 break out games.
Yahoo was the clear winner this week and both systems performed pretty poorly.
DEFENSE
Turnovers/Sacks are the most reliable predictor that I can find for above average and breakout games. Other additions into the analysis only served to reduce reliability. The following lists are the rank, the defending team, their matchup for the week, the average sacks/turnovers obtained by the defending team, the same given up by their matchup and then the overall score. These are averages which consider the number of games played as some teams have now gone through bye weeks.
And the following figure shows the actual defense points by week for my nfl.com league: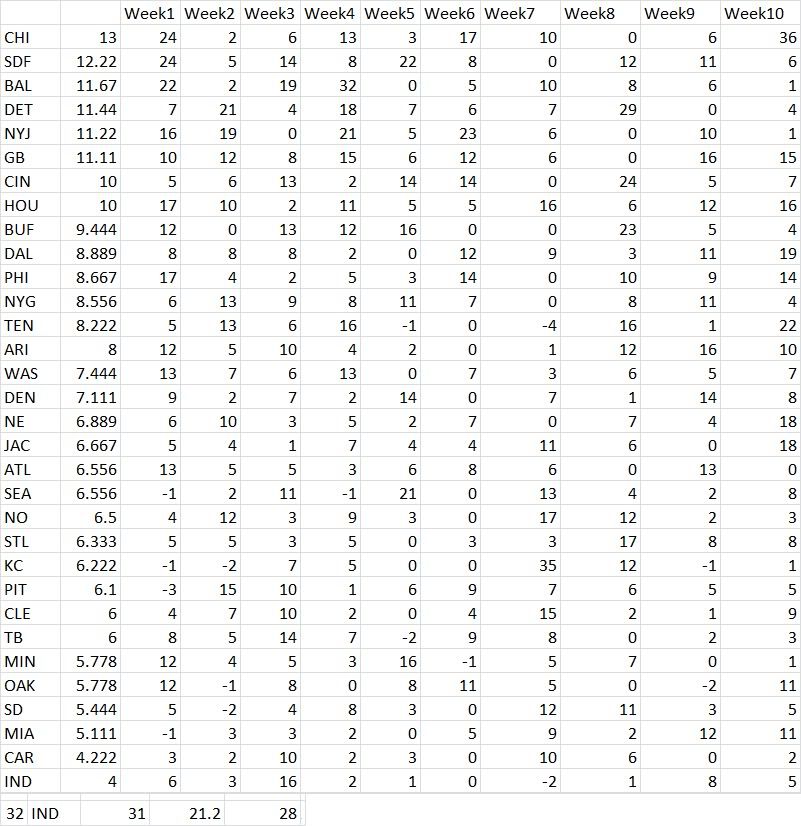 CHI now has the highest average points and has had 7/9 games with above average weeks and 5/9 with breakout games.
SF has 8/9 above average games with 5/9 breakout games but slightly fewer points overall.
BAL appears to be in delcline a bit with only one break out game in the last 5 outings.
DET is also on decline with only one break out game in the last 5 outings.
Jets have 2 break out games in the last 5 games but also some very average looking games.
GB continues to be a solid defense with 9/9 above average games and 6/9 break out games.
CIN has 4/9 break out games but has looked normal in the past two weeks.
HOU has had very solid production with 6/9 break out games and 7/9 above average games
BUF has had 5/9 break out games but the last two have been average to below average games and a total of 4/9 below average games
PHI has had a starnge spurt of 3 out of last 5 with break out games.
I think it's probably safe to move to STUD: GB, HOU, SF, and CHI which are 'never sits'.
Studly: I would probably move CIN, BAL, PHI, and NYJ to 'sit with good reason only'.
Dropping off are PIT and DET
And the following figure shows the number of points the opponent is giving to opposing defenses for the year: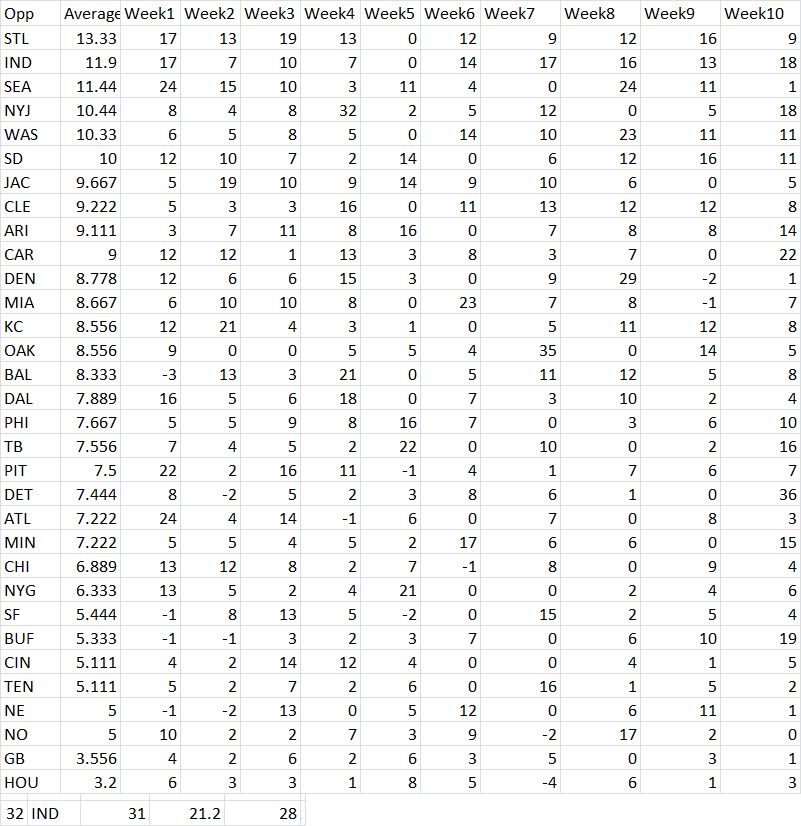 St. Louis gave 9 points this week and while not a break out game by my metric, is still a solid outing. IND continues to reliably give out double digit points to their opponent. Washington has also given out double digit points for 5 weeks in a row. Although SEA has given up many breakout games to opponents, last week shocked Bal with a one point outing. SD has given out 10+ points in 4 of the last 5 weeks. I would rank those 5 teams as matchups as STL, IND, WAS, SD, SEA.
Taking it all together:
My top 5 teams by the analyzer include:
1) CHI v. SD: Although number 4 by the analyzer, SD is also in my top lists for the matchups and CHI is one of my new 'studs'.
2) GB v. TB: GB is one of my never sits
3) SF v. ARI: GB is one of my never sits
4) CIN v. BAL; BAL has given up above average games in 3 of last 5. CIN has had break out games in 3 of last 5.
5) NYJ v. DEN: A good defense in the Jets facing a fairly turnover prone team in DEN but the caveat here being that DEN has given out -2 and 1 point in the last two weeks and NYJ has just had a 1 point day last week. Still, the jets have been a fairly consistent defense all year.
6) DET v. CAR: DET may have fallen off the studly ranks but they're still a pretty good defense and CAR has yielded above average games in 3 of their last 5
7) NYG v. PHI: The giants have 4 last 5 as above average with two break out games and Vick has a coupla broken ribs and 4/5 have been above average output by PHI.
8) SEA v. STL: STL continues to give out well above average points every week and even SEA has an occasionaly good day.
9) DAL v. WAS: WAS has given out 10+ points in the last 5 games
10) STL v. SEA: Not sure about this pick. SEA has given out a lot of good days but last week, only 1 point to BAL which is an awfully good defense. STL has had 3 games that were above average in the past 3 weeks, upset NO and got sacks and turnovers vs. ARI and CLE. I think less likely to have a monster day than the others but I still think an ok pick.
PASSING AND RUSHING DEFENSE:
The NFL ranks passing or rushing defense based on yards per game. However, from a fantasy perspective, TDs and turnovers are weighted much more heavily than yards in most fantasy leagues. Thus, the NFL's ranking doesn't always make sense. The following fantasy passing ranking is based on 1 point per 25 yards, 6 per TD and -2 per turnover. It does NOT take into account the matchup for the week.
Each line shows my rank, the team, the NFL's rank, the average score they are yielding opposing passers, and the toughness of their schedule so far this year. For example, BAL is now my number 1 ranked passing defense. They are the NFL's 6th ranked and have faced teh 23rd toughtest schedule so far. They are yielding an average of 10 points per game.
You should also note that this is passing only and if your qb has good legs, look also at the rushing rankings.
You should also note that this doesn't take into account their opponent that week.
PASSING

CIN has done well as a passing defense but have had the lightest schedule from offensive passing power stand point this season. IND is a bottom tier defense despite facing a relatively light passing schedule. MIN is the new low on my list after getting chewed up by GB.
RUSHING
SF is now into week 11 without having allowed a single rushing TD this year. GB has again the toughest opponents faced in rushing power and are still a top 10 rushing defense yielding n average of only 12.5 ppg. MIA has crept into the top 10 as a rushing defense and HOU and ATL continue to look strong.
Sorry for briefer than usual commentary. I'm also traveling again this week so may have spotty coverage.