Last week's post:
viewtopic.php?t=508417
Last week's analysis:
YAHOO AND ANALYZER: CHI-7, GB-7, SF-16, NYJ-7, SEA-15, DAL-7
YAHOO ONLY: BAL - 8, JAC-5, NE-22, ATL-4
ANALYZER ONLY: CIN-2, DET-5, NYG-8, STL-8
All of the Yahoo and Analyzer picks were above average games and 2/6 were break out games in my league.
Yahoo also called the NE blow out which the analyzer missed and BAL's pick. The Analyzer ahd above average games from NYG and STL but no breakout games. Advantage to Yahoo which got as many above average games and one more break out game.
Both systems missed MIA destroying BUF for 19 points, DEN over NYJ (17), OAK v. MIN (15), PHI@NYG (11) and CAR@DET(10).
DEFENSE
Turnovers/Sacks are the most reliable predictor that I can find for above average and breakout games. Other additions into the analysis only served to reduce reliability. The following lists are the rank, the defending team, their matchup for the week, the average sacks/turnovers obtained by the defending team, the same given up by their matchup and then the overall score. These are averages which consider the number of games played as some teams have now gone through bye weeks.

And the following shows the actual defense points by week for my league: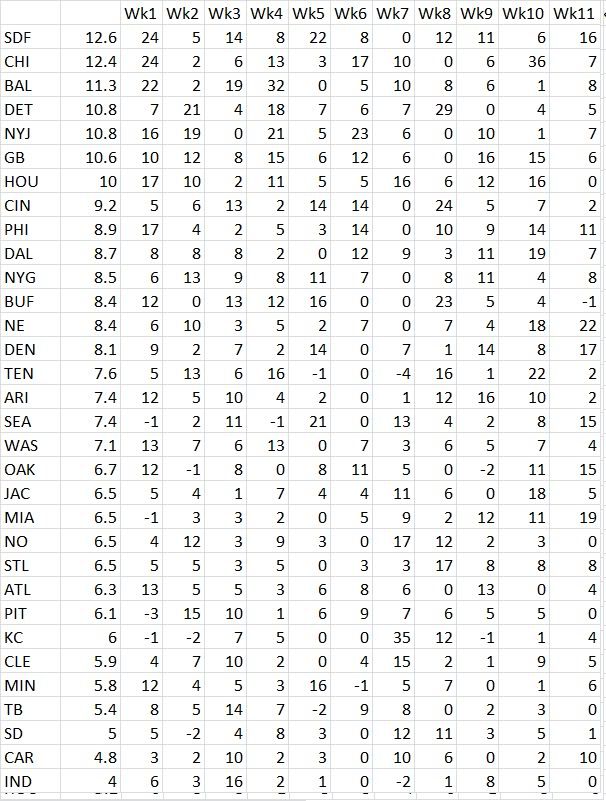 SF retakes top honors as the most consistent defense in the league with 6/10 having break out games and only 1 below average game for the year. CHI has had 2 below average games and 5/10 break out games. GB has had 6/10 break out games and no below average games and HOU has had 6/10 break out games but with 3 below average games.
I would classify as Stud as a team that you start no matter the matchup because they score so well irregardless.
Stud: SF, CHI, GB, HOU - Are teams I would consider 'never sits'. Their odds of getting you a break out game are high and the risks of a below average game are low.
Studly: I had CIN, BAL, PHI and NYJ in the studly category. PHI again did well with now their 5th game that is well above average and 4/5 break out games. BAL and NYJ had above average games but CIN had only 2 points. I would probably move CIN back out of this category to matchup only. BAL hasn't had a break out game since week 7 and only one since week 4. NYJ have had 3 break out games since week 4 but some other weaker games. BUF has also had 3 very flat weeks of 5, 4, and -1 points and CIN has had 3 weeks of 5, 7 and 2 points.
The following shows the output that the oppoenent is giving defending teams: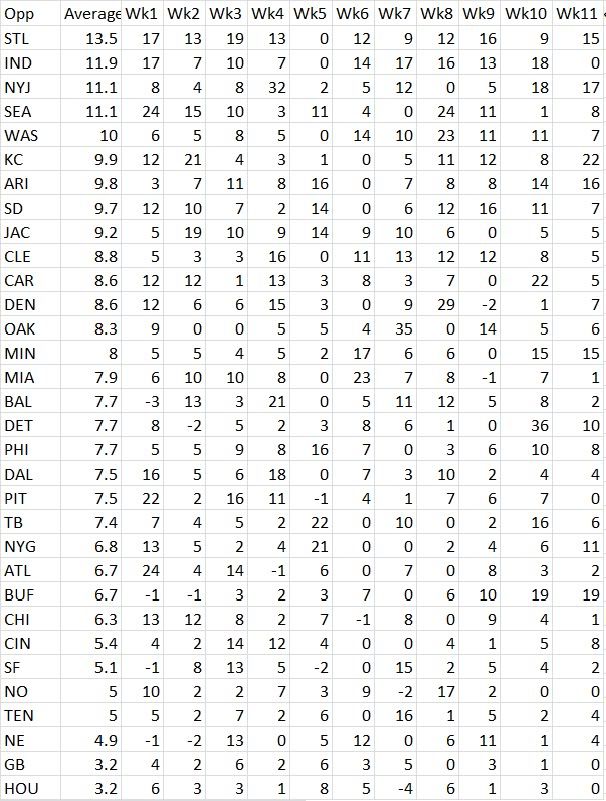 Once more STL and IND are the teams to matchup with. NYJ have climbed into 3rd place on the strength of 3/4 of their last games giving out break out games of 10+points. WAS had given up 5 consecutive weeks of break out games and if you look at the figures, it seems to be nearly Grossman specific. He has a terrible outing and gets benched and then back-up puts up great points for everyone else. Not sure they'll stay up there. KC has given out 4 above average and 3/4 weeks of break out games. SD continues to be a nice matchup with 6/10 break out games and only one below average game all year. CAR is more up and down than I would have thought.
HOU and GB continue to be the worst teams to play against, neither team having given up a single break out game all year. DAL has also been interesting as amatchup. Only one break out game in the past 6 games and only two above average games in 6 games.
Getting to the defense rankings:
1) CHI vs. OAK - One of my never sits
2) SF v. BAL - Another never sit
3) HOu v. JAC - Another never sit
4) NYJ v. BUF - BUF has given up 3 break out games in a row now.
5) GB v. DET - Another never sit and last two games from DET have given out 36 and 10 points
6) DEN v. SD - Den has had 5/6 above average games facing a SD team that has given up only one below aveage and 6/10 break out games this year.
7) ARI v. STL - STL has given out a lot of great weeks every week and ARI has 3/5 break out weeks.
8) CAR v. IND? - This is a softer call for me. IND has very consistently given out above average and break out weeks 7/10 weeks. But CAR is second to bottom in overall defense for me. Still they've had a few weeks that looked good defensively, just not sure how this will go.
9) CIN v. CLE - Although CIN has fallen off in the past 3 weeks, they've had some tough matchups in PIT and BAL. CLE has given out 6/7 above average and 5/7 break out games although last two were 8 and 5 point outings
10) STL v. ARI - STL has had 4 above average weeks in a row (ever since Brandon Lloyd arrived?) and ARI has given out 9/10 above average weeks and 4/10 break out weeks. I don't think much of STL as a defense but I think that they're as good a statistical bet for an above average game.
Not sure who to put in here. Still some great defenses out there including BAL, DET, NE, and some great matchups with WAS v. SEA and vice-versa and BUF v. NYJ. As always, please feel free to comment.
PASSING AND RUSHING DEFENSE:
The NFL ranks passing or rushing defense based on yards per game. However, from a fantasy perspective, TDs and turnovers are weighted much more heavily than yards in most fantasy leagues. Thus, the NFL's ranking doesn't always make sense. The following fantasy passing ranking is based on 1 point per 25 yards, 6 per TD and -2 per turnover. It does NOT take into account the matchup for the week.
Each line shows my rank, the team, the NFL's rank, the average score they are yielding opposing passers, and the toughness of their schedule so far this year. For example, NYJ is my top ranked passing defense, they are ranked 6th by the NFL but have allowed opposing QBs only 10.2 ppg on average and have faced the 8th toughest schedule this year.
You should also note that this is passing only and if your qb has good legs, look also at the rushing rankings.
You should also note that this doesn't take into account their opponent that week.
PASSING
CLE is ranked the number one passing defense by the NFL but I would note that they've had the 'easiest' schedule so far this year and so that might be suspect. CHI is ranked 30th by the NFL and 15th by me but I'd also note that they've had the second toughest schedule all year. CIN is ranked 10th by me and11th by NFL but have had the second easiest schedule so far this year.
Did you pick up Tebow and Decker? Because they do have SD, MIN, CHI, NE, BUF and KC to roundout the year. That is a REALLY squishy lineup of defenses. SD is allowing 17.9 ppg to opposing qbs, MIN is dead last at 20.6 ppg and even CHI, although ranked 15th by me, is 30th by NFL based on passing yards. NE is 25th by me, 32nd by NFL and BUF, KC to round out weeks 16/17. I'm not a Teboner but have to admit that looks like a nice series of matchups.
And how'd you like that Carson Palmer eh? Above average points for several weeks now, looking nice right? He finishes with CHI (15), MIA (20), GB (28), DET (3), KC (21) and week 17 SD (24). As said before CHI is 30th by NFL based on ypg. Other than DET, that looks like a nice schedule.
RUSHING

SF has yet to allow a rushing TD now in 10 straight games. But! They've had the easiest rushing schedule so far this year. Ray Rice is a 'never sit'. I bet the streak ends this week and I'd start Rice here. GB is ranked 8th by me and 12th by NFL but they've also faced the toughest rushing schedule so far this year. I sense trouble for people picking up Kevn Smith. However, he has a bunch of midling defenses after GB and so he seems to have a decent shot at picking things up. Hoping that Ogbonnaya will carry you to championship stardom? Because he does now face, CIN, BAL, PIT, ARI, BAL, PIT to close otu the season. ARI is a fluff rushing defense but the rest of those are likely to squash Ogbonnaya like a bug.
SJax is also going to shine this week vs. ARI but follow that with SF, SEA, CIN, PIT, SF. CIN is the 'weakest' of that bunch. Time to trade him away!
I had said that Murray's schedule was nice several weeks ago and that by the end of that he'd have the starting job which turned out to be right. He now has MIA (2), ARI (30), NYG (23), TB (29), PHI 16) and NYG (23) to close out the year. Other than MIA, that's a very nice lineup to look forward to and fairly or not, Murray will receive stud status next year.
Beanie Roulette! Beanie has STL (28) this week and closes out after that with DAL (10), SF (1), CLE (24), CIN (12) and week 17 SEA (7). And btw, he doesn't actually play better against tougher defenses as we saw vs. SF this past week. Only CLE looks like a favorable matchup there. I have to admit, I'm thinking of trading him but would hate for him to break out and beat me later.
Ben Tate? HOU seems to have gone to a two RB tandem and now have JAC (17), ATL (4), CIN (12), CAR (31), IND (32) and week 17 TEN (14). Frankly, I think who ever holds a healthy Arian Foster in the playoffs can expect 20-30 points each of those two weeks and I'm holding onto Tate for my playoff run.
As always, this information is for entertainment purposes only. Please don't replace common sense with a bunch of statistics!