Last week's post:
viewtopic.php?t=509107
Last week's analysis:
YAHOO AND ANALYZER: CHI (6), SF (1), HOU (13), NYJ (3), GB (8), CIN (5)
Yahoo Alone: PIT, (13) DAL (7), BAL (18), SEA (1),
Analyzer Alone: DEN (7), ARI (13), CAR (7), STL (15)
Median 5.5 points
A win for the analyzer!
7/10 were above average with 3 break out games for the analyzer
6/10 were above average for Yahoo with 3 break out games predicted.
This evens the score between Yahoo and the Analyzer.
DEFENSE:
Turnovers/Sacks are the most reliable predictor that I can find for above average and breakout games. Other additions into the analysis only served to reduce reliability. The following lists are the rank, the defending team, their matchup for the week, the average sacks/turnovers obtained by the defending team, the same given up by their matchup and then the overall score. These are averages which consider the number of games played as some teams have now gone through bye weeks.

The following are the actual defense points by week for my league: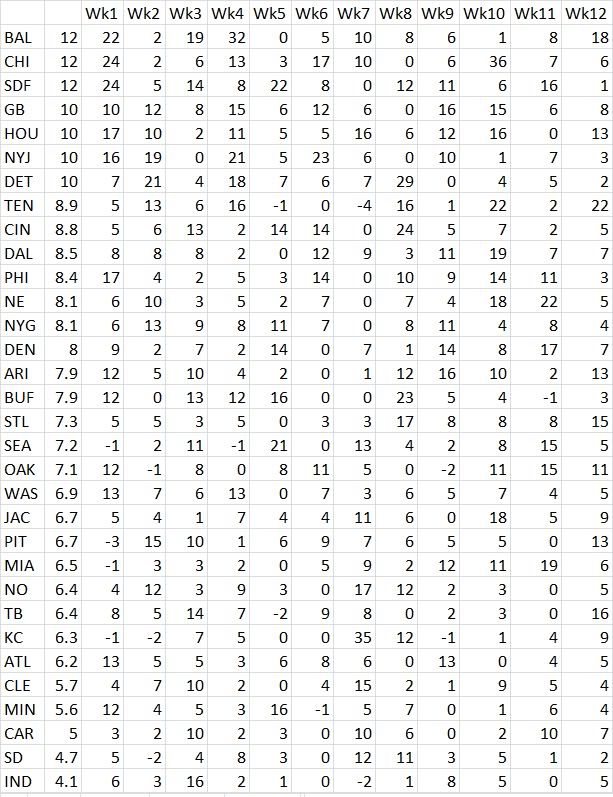 If we give information as below average/breakout games and every team has 11 games now:
STUD:
GB is 0/6
HOU is 2/6
SF is 2/6
Studly - watch matchups
BAL is 3/5
CHI is 3/5
NYJ is 3/5
DET is 4/3
Also worth noting is that TEN has now had 3 break out games intheir last 5 with two 20+ point games. Weird huh? ARI has now had 4/5 games with break out games despite some very tough matchups in some cases although STL last week. OAK has had 3 10+ games in a row since Carson Palmer really took the reins of that ship.
The following are the points awarded to defenses based on the opponent for my league: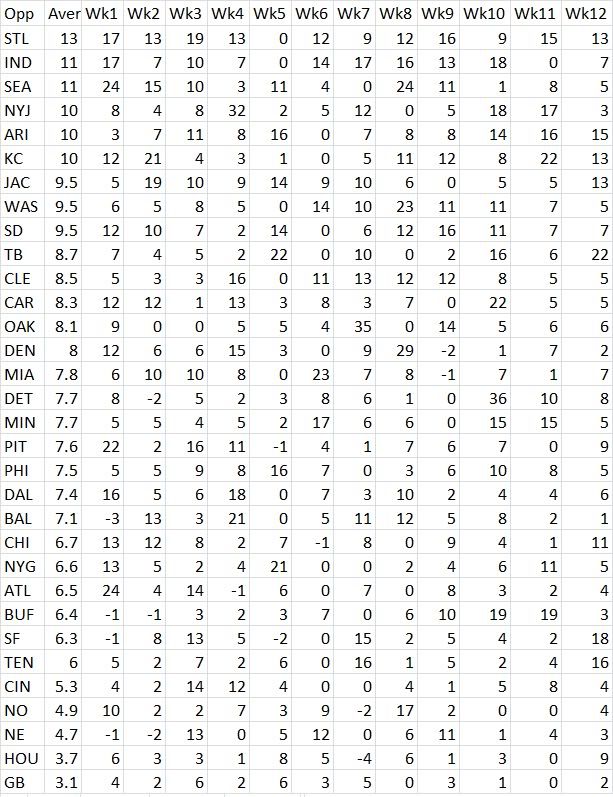 STL continues to be the best matchup int he league yielding only 2 games below 10 points through 11 games. Indy has given up 3 7 point games but the rest are break out games. However, Seattle has come down considerably and has only yielded 1 break out game in the last 4 weeks. ARI has yielded 3 games in a row of break out games and has only yielded one below average game all season. KC has given out 5 straight weeks of above average games and 4 break out games in that run. WAS has cooled off as I predicted. Despite a 5 game run when Hurd was the QB, they are now back to normal looking numbers. SD has also cooled off as a matchup as has CAR and CLE though both looked like excellent matchups earlier in the season.
Thus as a final top 10 for the analyzer:
1) SF v. STL - Just a beast of a matchup of a great defense against a team that gives up tons of points
2) CHI v. KC - A studly defense with an awesome matchup of KC that has given up 4 of last 5 break out games
3) NE v. IND - This has indysaster written allover it.
4) GB v. NYG - A never sit defense with no below average games so far this year but the giants are a tough matchup with only one break out game in the last 6.
5) HOU v. ATl - Another never sit defense but also with a tougher matchup against an ATL team that has not yielded a breakout game since week 3 and no above average games in the last 4. Still too hard to sit HOU
6) DAL v. ARI - ARI has yielded only one below average game all season and 3 weeks in a row of break out games.
7) BAL v. CLE - A studly defense, CLE hasn't given up as many the past 3 weeks but can't sit BAL here
8) NYJ v. WAS - A studly defense, WAS has cooled off as an opponent but Rex can be Gross, man.
9) PHI v. SEA - SEA has cooled off as an opponent and not sure how PHI will do in this scenario but it's a fair matchup otherwise.
10) TEN v. BUF - BUF has yielded 3 break out games in their last 5 and TEN has had 3 break out games in the last 5. I'm not sure if this is worth keeping in the top 10 but I think it's an interesting matchup.
PASSING AND RUSHING DEFENSE:
The NFL ranks passing or rushing defense based on yards per game. However, from a fantasy perspective, TDs and turnovers are weighted much more heavily than yards in most fantasy leagues. Thus, the NFL's ranking doesn't always make sense. The following fantasy passing ranking is based on 1 point per 25 yards, 6 per TD and -2 per turnover. It does NOT take into account the matchup for the week.
Each line shows my rank, the team, the NFL's rank, the average score they are yielding opposing passers, and the toughness of their schedule so far this year. For example, BAL is my top ranked passing defense, they are ranked 5th by the NFL but have allowed opposing QBs only 9.7 ppg on average and have faced the 6th toughest schedule this year.
You should also note that this is passing only and if your qb has good legs, look also at the rushing rankings.
You should also note that this doesn't take into account their opponent that week.

Not much movement from week to week now as the averages start to settle in. BAL has yielded 200ypg and whiel CLE has yielded 175 ypg which is a whole point in some fantasy statistics, BAL has yielded only 7 passing TD in 11 games to CLE's 11 passing TDs. That's what makes BAL so much tougher a fantasy matchup than CLE imho. However, HOU and NYJ also have yielded only 11 passing TD and I think it's important to note that CLE is really tough against QBs.
The Vikings have yielded a league worst 22 TD per game. Close behind though are the eagles and Bills with 21 TD allowed each which may surprise some who think of those as fair defenses otherwise.
Do you know which team has the most interceptions this year? BAL? NYJ? Nope, its the GB packers! Yes, the packers give up monster yards and touchdowns to opposing QBS but they have 22 picks on the year. The next closest are the Bears, Pats and Bills with 16. CLE may yield few passing TDS but they also have a nearly league worst 6 picks in 11 games. The Colts are the worst with only 5 picks.
The Ravens lead the league with 38 sacks in only 11 games. Close behind are the Texans (35) and Skins (33) but surprisingly, the next highest are the Minnesota Vikings with 33! For a team that's miserable against the pass, perhaps they should blitz less and cover their endzone more!
RUSHING:

This is bizarre. The 49ers have now gone 11 games without allowing ANY RUSHING TDS!!!! That streak has to end eventually but it is important to note that I have them facing the 3rd easiest rushing schedule so far. Bush vs. MIA? The Fins have allowed only 3 rushing TD in 11 games and only 97 ypg. Can't sit an OAK RB here but MIA has yielded a LOT more joy through the air and I think enthusiasm here is tempered. Did you know that the Denver Broncos and the TEN Titans have only allowed 5 rushing TDs in 11 games? That's better than Baltimore or Pittsburgh who have allowed 6 rushing scores in the same span. That might be a functio of how weak they are vs. the pass but for whatever reasons, rushers have found little joy in DEN and TEN.
On the other end of the spectrum, the colts and the panthers have allowed a league worst 15 rushing TDs. But catch this, the NYG and teh TB bucs have allowed 13! Those are some fair defenses allowing a lot of joy on the ground. DeAngelo going to have another big week? Blount owners ready for a 20+ point outing?
PLAYOFF OUTLOOK
Taking the defense fantasy score and looking at weeks 14-16, I'm listing the best composite score by team.

DET has the best passing/receiving outlook for the playoffs with MIN, OAK and SD as matchups. Those are all bottom tier passing defenses.
WAS has the second best?! They have NE, NYG and MIN with only NYG being a midling matchup. Not sure I have a lot of faith in Rexy but I think that I can't deny that there are scoring opportunities for Moss and Davis.
MIA's Matt Moore may have a nice playoffs too with PHI, BUF and NE. All 3 of those are bottom 10 passing defenses.
Are you Romosexual? Not that there's anything wrong with that but Romo has NYG, TB and PHI to close out the year with the last two games looking very easy for him.
Tebowmanic? He finishes with CHI, NE and BUF. CHI is no joke but NE and BUF have yielded a ton through the air. I just wish he would throw the damn rock!
Hoping Rivers to VJax will carry you to your championship? After numerous easy matchups this year, they close the season with BUF, BAL, DET. BUf should be fine but that BAL-DET double whammy is gonna hurt!
Look at Arian Foster's closeout for the year: CIN, CAR, IND. While CIN might be tough, CAR and IND to close the year? Whoever has Foster and possibly Tate has to be salivating at that.
Ray Rice fans? IND, SD, CLE to close out the year. All bottom tier rushing defenses!
Murray fans have to love NYG, TB, PHI to close the year out. NYG and TB are bottom tier defenses as well.
My sleeper is Benson. He has HOU, STL and ARI to close the year out. HOU is no joke but STL/ARI for 15-16?! Good golly!
Beanie's stock is pretty high after blowing up STL last week. But he does round out the year with SF, CLE, CIN. SF and CIN are just brutal matchups although CLE could work out.
Marshawn Lynch making you look like a jedi master? He has a great week 14 matchup vs. STL but then CHI, SF for a bad 15-16 punch.
Boy that Donald Brown looked like a nice flash in that pan eh? Course, he now faces BAL, TEN, HOU to round out the year (two top 10 and a top 12 rushing defense). Sell!
Thinking about that Pierre Thomas waiver wire pick up, aren't you? THink hard because he finsihes with TEN, MIN, ATL which are 14, 12 and 4 on rushing defense this year.
Remember, this information is for entertainment purposes only. Please don't replace common sense and intuition with a bunch of statistics!