Last week's post:
viewtopic.php?t=509731
The Monday Morning QBing:
YAHOO AND ANALYZER: SF (18), CHI (8), NE (6), GB (7), DAL (6), BAL (15), NYJ (9)
YAHOO ONLY: PIT (17), KC (20), ATL (6)
ANALYZER ONLY: HOU (8), PHI (3), TEN (5)
A clear win for Yahoo. Yahoo predicted 2 more break out games than the analyzer did. The systems in general picked 10/10 for above average games (average being 5) vs. 8/10 for the analyzer. It's swung back and forth. Learning from this week, KC was a good call on a suspect new QB in CHI although ATL didn't capitalize from the same logic vs. HOU or NE vs. IND so I'm not sure how good a metric that is. Overall, there were very fw break out games last week. Both systems missed SEA who tore up Vince Young and MIA who made a single turnover into a TD.
DEFENSE:
Turnovers/Sacks are the most reliable predictor that I can find for above average and breakout games. Other additions into the analysis only served to reduce reliability. The following lists are the rank, the defending team, their matchup for the week, the average sacks/turnovers obtained by the defending team, the same given up by their matchup and then the overall score. These are averages which consider the number of games played as some teams have now gone through bye weeks.

The following are the actual points produced by the defense:
And the following are the actual points given out by an offense: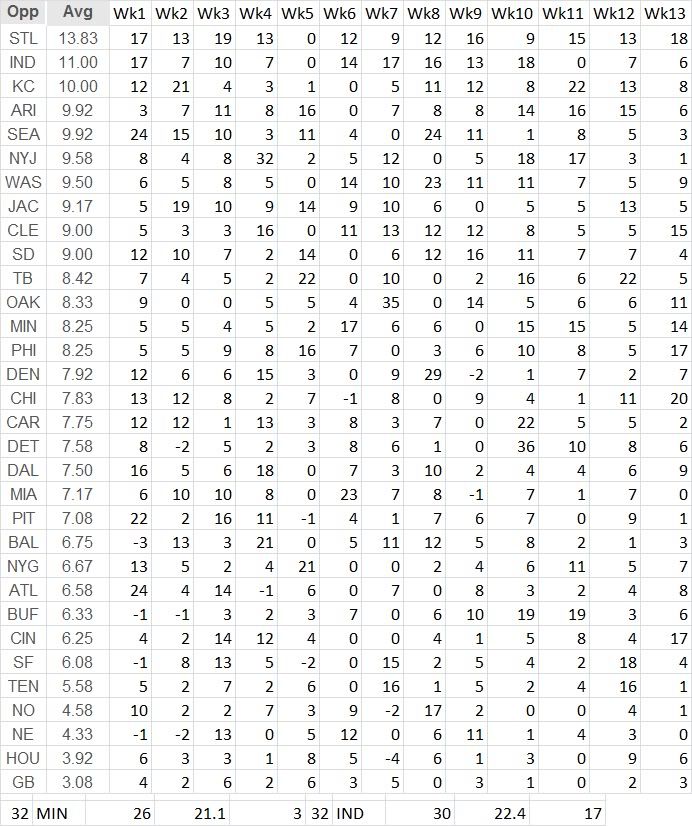 My definition of STUD is a defense that has few below average games and a high portion of above average/break out games.
GB is 0/6
HOU is 2/6
SF is 2/7
BAL is 3/6
Studly - Watch matchups
CHI is 3/5
NYJ is 3/5
Overall, a Stud is one that you start every week no matter the matchup as they may have a bad game now and again but the odds are excellent they'll have an above average game. Studly is still a great defense, just not quite as many break out games and more below average games.
STL once again proved that they are the best team to play against giving up 18 points to SF last week. IND however, surprised me with a paltry 6 points given to NE. KC and ARI also gave very modest points to their opponents and SEA and NYJ gave below average games. SEA's trend overall in the past four weeks has been to yield very ugly output to defenses. Something interesting to watch.
So the Analyzer's adjusted top 10 is:
1) SF v. ARI - A never sit team playinng ARI who has given only 1 below average game all year. Hopefully last week a fluke.
2) BAL v. IND - Another never sit defense with a cherry matchup vs. IND. Hopefully IND gets back to giving up break out weeks.
3) SEA v. STL - SEA has been pretty hot as a defense with 3/5 above average and 2/5 breakout games going up against STL has yet to yield a below average week to a defense and has 10/12 weeks with break out games. GET SEA!
4) NYJ v. KC - A studly defense with a great matchup. KC has given 6 striaght weeks of above average points and 4/6 break out games.
5) HOU v. CIN - HOU has 4 nice games in a row with 3/4 being break out games. They are a never sit facing a tougher matchup in CIN. CIN did just give up 17 to PIT and 8 to BAL recently and so this gets up to 5.
6) DEN v. CHI - DEN has been pretty solid as a defense with above average in all of their last 5 weeks and 3/5 with break out games. CHI has been broken for several weeks now and has given out 11 and 20 points in their last two weeks.
7) DET v. MIN - A once studly defense, DET has been cold since week 8 but plays a MIN team that has given 3 of their last 4 as break out games.
8) GB v. OAK - GB has cooled off as a defense with 6,8 and 7 points in the last 3 weeks and OAK has yielded 2 break out games in teh last 5 but also 3 games of 5, 5 and 6 points. Still, GB is one of my never sits and is a safe bet for an above average day.
9) CHI v. DEN - A studly defense but with a tough matchup vs. DEN who has given up 3 outings in their last 5 of less than 3 points and no
break outs since week 8. I'd be very cautious here.
10) NE v. WAS - NE has not been very consistent as a defense and couldn't capitalize on a nice matchup vs. IND last week. WAS has cooled off with the return of Gross man as well. Still, this has a nice look to it from a defensive standpoint of sacks and turnover matchup.
PASSING AND RUSHING DEFENSE:
The NFL ranks passing or rushing defense based on yards per game. However, from a fantasy perspective, TDs and turnovers are weighted much more heavily than yards in most fantasy leagues. Thus, the NFL's ranking doesn't always make sense. The following fantasy passing ranking is based on 1 point per 25 yards, 6 per TD and -2 per turnover. It does NOT take into account the matchup for the week.
This week, I combined the tables into one figure to make the post shorter. PASSING ON THE LEFT, RUSHING ON THE RIGHT:
SF is my number 1 rushing defense, they are ranked number 1 by the NFL, have yielded opposing rushers an average of only 5.8 ppg but have faced the weakest rushing schedule of the year.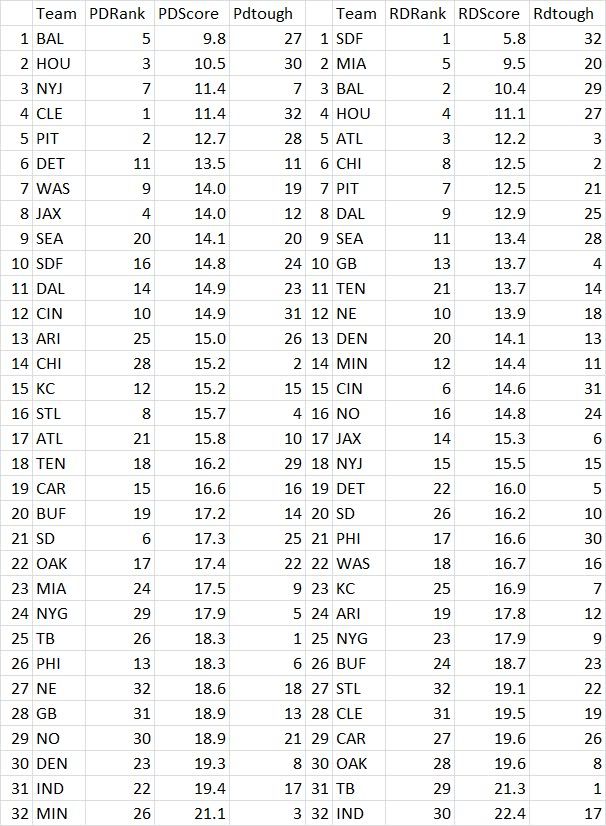 Passing defenses have looked pretty brutal for awhile. CLE still strikes me as odd but I suppose they haven't faced a Brady or a Brees or Rodgers as yet. Rivers will be an interesting test. SEA is ranked 20th against the pass by the NFL but they have only given up 16 TDs in 12 games this year and have a very respectable 16 picks for the year. SF is also not ranked very highly by the NFL at 16th but have given up only 15 TDs in 12 games and have 16 picks as well. Despite what the yards show, as a fantasy defense, these are hard numbers to ignore.
NO, NE and GB have been sieves with the respect to yards given as shown by their NFL ranks but their actual TDs yielded are 22 for GB, 19 for NO and 18 for NE in 12 games. That's actually not that far off from the top 10 teams. NE has 17 picks, NO only has 7 picks and GB has a very respectable 23 picks. Thus, they end up being more highly ranked by me than the NFL.
In Rushing, SF again did not yield a rushing TD for now the 12th game in a row. MIA ranks as my number 2 defense having yielded only 3 TD on the ground in 12 games (!). That's really pathetic. DEN has yielded a lot of yards at 121 per game pushing the m down to 20th on the NFL ranking but did you know that they've only yielded 5 TD this year on the ground? That's better than Baltimore, Houston and Pitsburgh each with 6 TDs in 12 games. DAL has given a average of 100 ypg but only 7 rushing TDs this year.
TB and IND tie for the most yielded at 17 TD in 12 games. CAR is close behind at 15 TD and BUF has yielded a shocking 14 TD this year. STL by comparison has given up a ridiculous 157 ypg but only 9 rushing TDs.
While MIA is good at protecting their endzone, they have only 2 fumble recoveries in 12 games which is league worst. PIT also has had trouble taking the ball away with 4 which is worse than IND who has 5.
BAL is arguably the best passing defense based on TDs yielded but another big reason is taht they lead the league with 41 sacks(!). But wouldn't you be surprised to learn that MIN is second on that list with 35!. DAL and HOU also have 35 sacks on the year and WAS, DEN, STL (huh?) , PHI, OAK and NYG have 33 sacks. That's nearly 3 per game for most of those teams. By comparison, the Bills have only 17 sacks on the year and TB and IND each have 19 sacks.
As always, this information is for entertainment purposes only. Please don't replace common sense and intuition with a bunch of statistics