Last week's post:
viewtopic.php?t=510220
Some Monday Morning QBing:
Both Yahoo and Analyzer: SF (8), BAL (10), SEA (15), NYJ (13), GB (18), NE (12)
Yahoo Only: PIT (14), JAC (30), CIN (14), KC (1)
Analyzer: HOU (6), DEN (10), DET (27), CHI (13)
PHI (21), SD(20),
A probable draw between Yahoo and Analyzer although the analyzer had a slight advantage in HOU having 6 and KC having 1 point. 10/10 were above average picks for the analyzer, 9/10 for Yahoo and both had 8/10 as break out picks which is a very strong day for both. Both missed PHI @ MIA and PHI does seem to play differently with Vick at the helm than Young. PHI had two straight 3 point outings as a defense and MIA had given up 1, 7 and 0 points in their last 3. But PHI exploded on them with a monster 9 sacks and 3 turnovers.
SD blew up the Bills primarily on 3 picks with a defensive score and holding them to 4 points. SD seems like a team on the rise late in the season where they usually are hot early in a season and then stumble at the end.
DEFENSE:
Turnovers/Sacks are the most reliable predictor that I can find for above average and breakout games. Other additions into the analysis only served to reduce reliability. The following lists are the rank, the defending team, their matchup for the week, the average sacks/turnovers obtained by the defending team, the same given up by their matchup and then the overall score. These are averages which consider the number of games played as some teams have now gone through bye weeks.

The below figure shows the actual points made by each defense by week: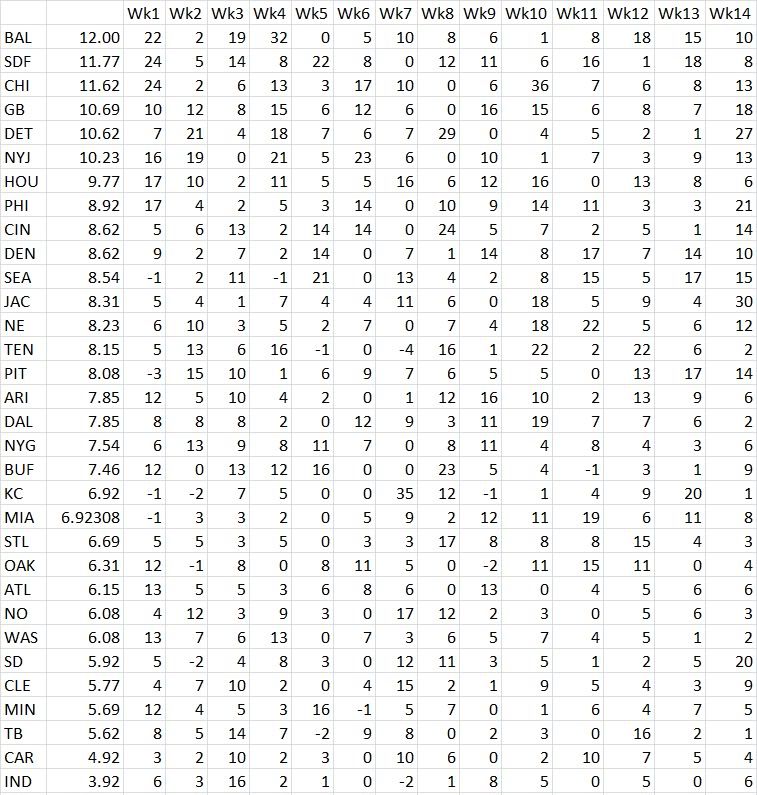 And the figure below shows the actual points given to their defense by week:
STL and IND and KC are the best teams so far this year to have matchups with although TB has given 3 monstrous games of their last 5 including a 22 and a 30 point outing. MIN has also given 4 of their last 5 games as break out games of 14+ points per week. Also hot as a matchup has been CHI with 3 10+ point outings in the last 3 weeks. HOU has crept out of the basement as amatchup giving it's first breakout game of the year last week with 14 points surrendered. BUF has had 4 of their last 6 games be break outs with 3 games of 19+ but also gave a 3 and a 6 point outing.
As far as defenses go, BAL has been a steady and strong defense. SF has been up and down a bit and has a tough matchup this week vs. PIT. DEN has now had 6 above average weeks in a row with 4 breakout games buut have a tough matchup vs. NE. SEA has also had 3 of their last 4 games have breakout games and have a nice matchup in CHI.
PIT has also had 3 break out games in a row but face a stiffer SF offense.
1) GB v. KC - GB is a never sit defense that hasn't given a below average game all year as a defense. KC has given up nothing but above average weeks since week 7 including 5 break out games.
2) CIN v. STL - STL has given out 9+ points all year long and CIN is a solid defense worthy of capitalizing on that.
3) TEN v. IND - Although not as good a matchup as CIN v. STL, TEN has done well against softer teams like IND (16), CAR (22) and TB (22).
4) ARI v. CLE - ARI cooled off v. SF but had been on a nice little hot streak prior to that and will likely pick that back up vs. CLE who has given a couple of straight break out games.
5) MIA v. BUF - MIA has had 6 straight above average games with 4 break out games as a defense facing a BUF team that has given 4 break out games of their last 6.
6) DET v. OAK - DET had a smash week with 27 points this past week after about 4 weeks in a row of cooling off. OAK has given up two straight break out games. DMC returns this week to the lineup but who knows how rusty he'll be after a month off.
7) NO@MIN - MIN has given out some hot weeks with 4 of their last 5 being breakout games. While NO hasn't been as impressive a of a defense with no breakout games since week 8, the matchup here is tough to ignore.
8) BAL v. SD - BAL has been a never sit stud with only one below average week since week 6 facing a SD team that has been hotter of late. Rivers hasn't thrown a pick for 3 weeks straight but now faces a much tougher defense.
9) CHI v. SEA - SEA hasn't given a breakout game since week 9 and has only had one above average game surrendered. But CHI has been a very good defense and hasn't had a truly bad outing since week 4 or so.
10) SF v. PIT - Although SF is one of my never sits, PIT hasn't given a breakout game since week 4. However, they have given a number of above average games and so this makes it to the top 10. SF has looked beatable, had only one point vs. BAL and didn't really blow the doors off of their matchup v. ARI last week. Toss up between this and PIT v. SF.
Yahoo seems to like PIT a lot and it's hard to argue with 3 straight break out games vs. KC, CIN and CLE. SF will be an interesting test.
HOU v. CAR is a tougher one. It ranks highly on the sacks and turnovers metric but CAR has been awfully cold to play against for the past 4 weeks and HOU has cooled slightly. Normally, they would easily make my top 10 and so I feel funny not having them up there. Probably still worth the start imho.
PASSING AND RUSHING DEFENSE:
The NFL ranks passing or rushing defense based on yards per game. However, from a fantasy perspective, TDs and turnovers are weighted much more heavily than yards in most fantasy leagues. Thus, the NFL's ranking doesn't always make sense. The following fantasy passing ranking is based on 1 point per 25 yards, 6 per TD and -2 per turnover. It does NOT take into account the matchup for the week.
This week, I combined the tables into one figure to make the post shorter. PASSING ON THE LEFT, RUSHING ON THE RIGHT:
SF is my number 1 rushing defense, they are ranked number 1 by the NFL, have yielded opposing rushers an average of only 5.7 ppg but have faced the weakest rushing schedule of the year.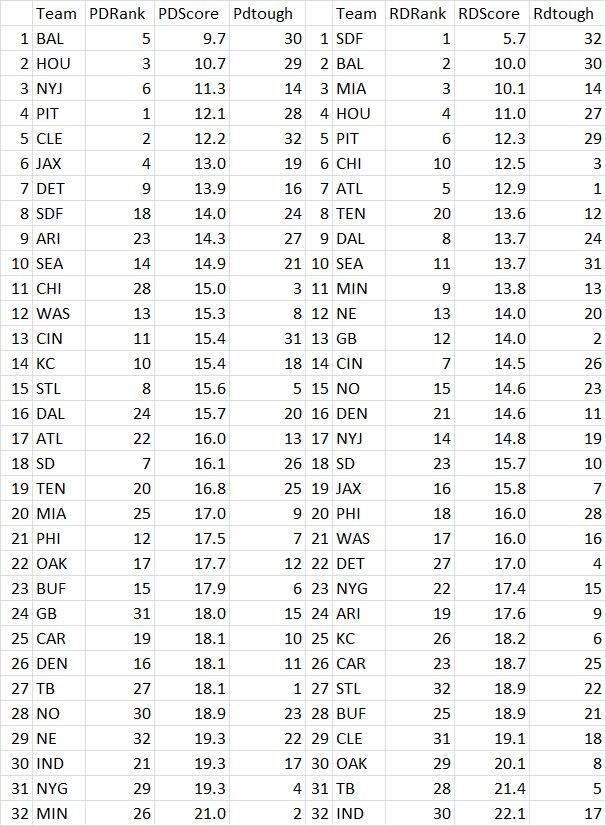 Not much movement week to week now as the matchups get more weighed down by the data. As frequently happens, the toughest passing defenses have had some of the lighter schedules. But for rushing defenses, ATL looks really good. 5th by NFL, 7th by me and have had the toughest schedule so far this year. GB and NE had been 31 and 32 in passing defense but GB has slowly drifted to 24th on my list suggesting they are getting tougher vs. the pass. The Giants fell pretty hard this week in the rankings, giving up multiple TDs to Romo.
Pop Quiz: Which team leads the league in rushing yards per game: A) Houston Texans, B) Minnesota Vikings, C) Denver Broncos or D) Philadephia Eagles?
Pop Quiz: Which team has had the fewest rushing yards per game: A) Cleveland Browns, B) Indianapolis Colts, C) Washington Redskins or D) New York Giants?
Pop Quiz: Which team leads the league in interceptions at 27 which is 9 more than the second place team that has 18? A) San Francisco, B) Green Bay, C) Chicago, D) Detroit
Pop Quiz: Which Division Leader has only had 7 picks all year which is one more than the worst teams with 6 picks? A) Denver, B) New England, C) New Orleans or D) New York Giants
Pop Quiz: Which team with a losing record has given up the fewest sacks for the year (17)? Better than NE, NO, Baltimore and CIN. A) Carolina, B) Washington, C) Arizona, D) Buffalo
***
Answers: Surprisingly, the Denver Broncos have the most rushing yards per game at 156.2 which edges out Houston at 151.9 yards per game. Strange when one considers that they don't have an elite running back!
And just as surprising, the New York Giants have the lowest rushing yards per game at 85.8. Go Eli?
The Green Bay Packers have a monstrous 27 picks in 13 games which is 9 more than the 18 that second place tied DET, NE and SF have.
And despite a potent offense, the New Orleans saints have only had 7 picks all year. Only Indy and Minnesota are worse at 6 picks.
The Buffalo Bills may have a losing record, but Ryan Fitzpatrick is no doubt a star because they have given up a league low 17 sacks this year. Protecting that property better than Brady (22 sacks) or Brees (23 sacks).
Remember, this information is for entertainment purposes only. Please don't replace common sense and instincts with a bunch of statistics.