Last week's post:
viewtopic.php?t=510760
The Monday morning QBing:
YAHOO AND ANALYZER: GB (1), CIN (7), ARI (5), BAL (-1), SF (18)
YAHOO ONLY: PIT (1), ATL (20), DAL (9), NYJ (7), HOU (1)
ANALYZER ONLY: TEN (2), MIA (9), DET (5), NO (7), CHI (9)
SEA (30), PHI (19), IND (17), WAS (13), SD (12), CAR (12), NE (10)
Ugly day for Yahoo and Analyzer. With 5 points being the median score, only 2 or 5 were above average for the joint calls and only one break out game.
Yahoo had 3/5 of their solo calls with above average games with one break out.
Analyzer had 3/5 of solo calls above average with no break out games.
Advantage slightly to analyzer.
Throughout the season, I think the Analyzer has done well but this was a bad week overall and fantasy football is like finding patterns in chaos. Green Bay finally lost a game and Indy finally won one. Ryan Mathews went bananas on the Baltimore rushing defense and Carolina shut down Houston. Many of those would have been very hard to call.
However, there's only a week left in most fantasy leagues so I press on. But I wonder if next year we could save me a lot of time and effort with just listing a link to the Yahoo defense rankings every week
DEFENSE:
Turnovers/Sacks are the most reliable predictor that I can find for above average and breakout games. Other additions into the analysis only served to reduce reliability. The following lists are the rank, the defending team, their matchup for the week, the average sacks/turnovers obtained by the defending team, the same given up by their matchup and then the overall score. These are averages which consider the number of games played as some teams have now gone through bye weeks.

The following figure shows the defense's production per week in my league: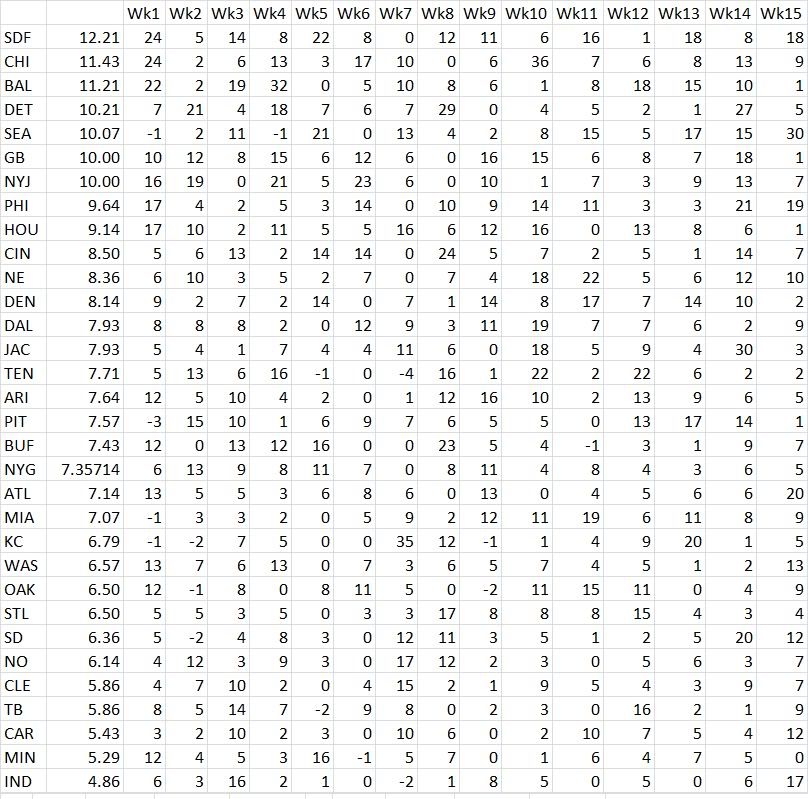 And this figure shows the output that offenses have given to a defense per week in my league.
1) SF v. SEA - SF has been an elite defense with only 2 below average games all year and with 8/15 games having break out games. SEA has been on the rise and hasn't given a break out since week 9 but has arguably had easier matchups than SF.
2) GB v. CHI - GB suffered badly last week with only 1 point in their surprise loss to KC. But have otherwise had a solid year with no below average games and 7/15 games with breakout weeks and in particular, CHI has recently given out 4 break out games in a row since losing Cutler and then Forte.
3) BAL v. CLE - Baltimore also stumbled badly this past week v. SD and has now given up 4 below average games this year along with 6/15 with break out games. CLE has been hot and cold as an opponent with 2 break out games in their last 5.
4) PIT v. STL - STL finally gave a mediocre 7 point game which is still above average. They've given a league leading 12/15 games as break out games this year facing a PIT defnse that although giving out only 1 point vs. SF last week, had 3 break out weeks in a row.
5) NE v. MIA - NE has been on a little mini run with 4 of their last 6 having break out games and face a MIA team that can occasionally failboat in an AFC east matchup.
6) CIN v. ARI - CIN hasn't exactly exploded as a defense of late and has been much cooler since week 8. ARI has only given out one below average game this year but has given out 6 break out games. The trend is a stronger ARI team of late but CIN is still a solid defense.
7) HOU v. IND - Houston seems to have declined quite a bit without a decent QB or Andre Johnson but face an IND team that may be improving with Orlovsky but hasn't proven themselves as winners yet. HOU has had 4 below average games and 7/15 break out games and is still a defense hard to sit.
8) DAL v. PHI - PHI has played much stronger since Vick's return but still giving out above average games. DAL hasn't had many break out weeks but plenty of average weeks. This is more based on sacks and turnovers potential than anything.
9) CAR v. TB - Carolina isn't a stellar defense but have 2 break out games in their last 5 and an above average outing. But they also face TB who has given the 3rd most points and have given 4 of their last 5 as above average games and two 20+ point outings. This is a gamble but a cute one.
10) WAS v. MIN - Washington hasn't fared well as a defense since the early weeks but shocked the Giants for their first break out game since week 4. MIN has given out a lot of above average games and break out games in the last 6 weeks.
Other considerations
DET v. SD - Det has cooled off considerably and SD has become much better of late. I'd approach this one with caution. However, the sacks/turnovers arithmettic on this one is 3rd best in the league.
NYG v. NYJ - This has a highly favorable sacks/turnovers ratio. The Giants haven't had a blow up week since mid-season but the jets have given out the fourth most fantasy defense points this season. Still, they also have given out 3, 1, 1 and 19 in their last 4 games. A gamble but one that may pay off.
MIN v. WAS - This also shows up by sacks/turnovers potential. WAS has definitely played better with Grossman's return and only one break out in teh last 5 weeks. MIN has not had a break out since week 5 and hasn't played very well as a defense this year. But the combination of sacks/turnovers looks favorable here.
PASSING AND RUSHING DEFENSE:
The NFL ranks passing or rushing defense based on yards per game. However, from a fantasy perspective, TDs and turnovers are weighted much more heavily than yards in most fantasy leagues. Thus, the NFL's ranking doesn't always make sense. The following fantasy passing ranking is based on 1 point per 25 yards, 6 per TD and -2 per turnover. It does NOT take into account the matchup for the week.
PASSING ON THE LEFT, RUSHING ON THE RIGHT:
SF is my number 1 rushing defense, they are ranked number 1 by the NFL, have yielded opposing rushers an average of only 5.7 ppg but have faced the weakest rushing schedule of the year.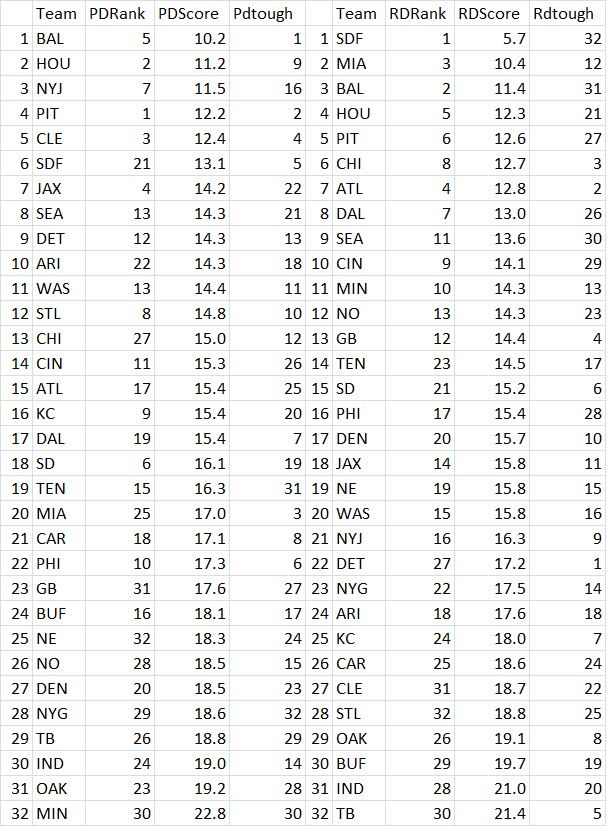 Once more, SF has failed to yield a rushing TD now in their 15th week! This is truly a bizarre abberation and one has to wonder if the odds of this streak breaking is now getting higher than the odds of it continuing on. Baltimore slipped a rank based on Ryan Mathews breaking out on them. SEA has slowly climbed up while CIN has slowly drifted down. TB continues to be fun to run against. For passing, BAL still takes the top spot offering an average of only 10.2 ppg to opposing QBs. HOU yielded 2 scores to Cam Newton but on average has been very tough to play against. SF has yielded 240 ypg to opponents but only 18 TD and they have 21 picks in 14games. That's barely more than one TD per game. PIT has yielded 15 TD in 14 games but only has 10 picks. ARI is also underrated by the NFL but have yielded a suprisingly low 14 passing TD which is an average of only one per game. NE and GB, despite having started the year as the 31st and 32nd passing defenses, have slowly moved higher on the ladder to now 23rd and 25th suggesting that as the season wore on, they've played like a midling passing defense. SD is ranked 6th by the NFL because of the few yards they yield at 201 per game but they have surrendered 24 TDs this season through the air.
Next week I'm on vacation so this should be the last one for the season. Thanks to everyone for their support and have a great playoffs and off-season!