Defense Analyzer
Hello all. I'm reviving this series now that we have a few weeks of data under our belt.
The Defense Analyzer was originally developed based on a statistical analysis of correlation between particular stats (sacks, turnovers, TDs, points against) to determine which combination was most predictive of a break out game (10+ or more points). The analysis showed that while a defense that allowed the fewest points is great in real life, from a fantasy perspective, sacks and turnovers were more predictive of a good fantasy score. Largely because the median score for points against (in the 20s) provided almost no points to a defense but sacks and turnovers were positives. TDs obviously have an even bigger impact but other than sacks and turnovers, are very hard to predict.
My method is to take the matchups for the week, use the defense's Sacks and weighted Turnovers average per game and compare it to the sacks and turnovers given up by the opponent every week. I sum them to get a score. After I do that, I look at the individual performance of the defense as well as opponents. Last year, playing the defense that faced STL every week was better than SF (the number one defense in my league).
DEFENSE ANALYSIS
Rank, Defense, matchup, turnovers/sacks by defense, turnovers/sacks by offense, sum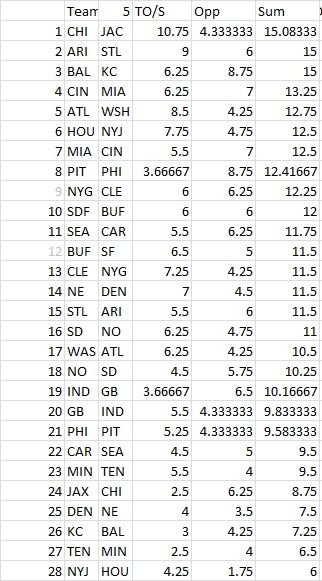 DEFENSE PERFORMANCE
On the left are the defenses and the number of points scored each week in my league. On the right are the points given to defenses by a particular team.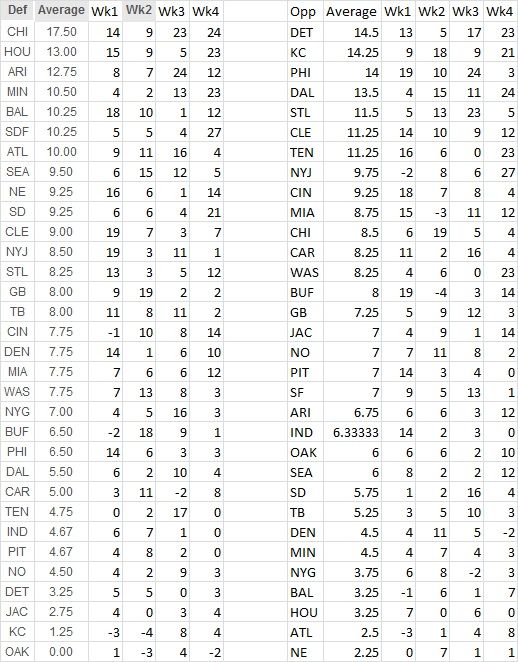 Final rankings:
1) CHI vs. JAC - CHI has had 9+ points plus two 20+ point outings. JAC has given out 9+ points twice in the past 4 weeks.
2) BAL vs. KC - BAL had one bad game vs. NE and KC hasn't given out less than 9 points all year. This should be good.
3) ARI vs. STL - ARI has had two 10+ outings in a row and has also had average weeks. STL has given two 10+ outings but also two 5+ outings. I lowered enthusiasm on this one slightly as a result.
4) CIN vs. MIA - CIN had one bad week in week one vs BAl but otherwise has looked fine as a defense. MIA had one bad production to a defense vs. OAK but otherwise has given out double digits. This should be fine.
5) HOU vs. NYJ - HOU had one bad game as a defense vs. DEN but otherwise has produced very regularly facing a jets team that only gave out one bad week and just surrendered 27 points to SF. The jets weren't pushovers to midling level defenses in BUF, PIT and MIA but HOU should be a cut above.
6) NYG vs. CLE - I raised this in rank a bit. The Giants have only had one break out week vs. CAR but CLE has been very generous giving a minimum of 9 points to BUF. I think the Giants should have a good week here
7) ATL vs. WAS - ATL had one bad week vs. CAR but otherwise has been 9+ solid points. WAS however, just gave out a bad week with 23 points but prior to that had not given one higher than 6 points and gave CIN zero. Still, I would rank this matchup as top 10
8) SF vs. BUF - SF hasn't exactly been blowing the doors off the first 3 weeks but they did great vs. NYJ. BUF has given out some terible outings to KC and CLE but gave double digits to the jets and NE. I think SF is probably in that tier and so I'd keep them in the top 10.
9) PIT vs. PHI - PIT used to be an elite defense but has had a terrible first three games as a defense. PHI gave out monstrous points in the first three weeks but settled down this past week. A bit of a gamble but still makes the top 10 based on sacks/turnovers given up by PHI.
10) MIA vs. CIN - MIA hasn't been stellar in defense and CIN hasn't been stellar in what they've given out. This comes up because of the sacks/turnovers and the opportunities exist for a break out game here.
Riskier:
MIN vs. TEN - MIN has been hot last two weeks with a 13 and 23 point outing and TEN has given out 16 and 23 points to NE and HOU but not much to SD and DET. Still, MIN had good outings vs. SF and DET of late and may show a trend worth following up by taking this week.
SEA vs. CAR - SEA is a fine defense and have two break out games vs. DAL and GB but struggled vs. ARI and STL. CAR has been a fine opponent to have at times giving up 11 and 16 to TB and NYG but then not much vs. NO and ATL. This matchup depends on Good Newton or Bad Newton showing up.
Avoid?
NE did fine as a defense vs. TEN and BUF but c'mon, those aren't mega offenses. Vs. ARI and BAL, they struggled as a defense and this week they have DEN who has only given one game above 5 points all year. Would avoid.
CLE vs. NYG - CLE had a great week 1 but just so-so after that facing a giants team that hasn't given up more than 8 points all year. I'd approach with caution.
NYJ vs. HOU - NYJ have had two good weeks vs. BUF and MIA but terrible vs. PIT and SF. Hou has given out two zero's to defenses. Once a great defense but I would avoid this week.