Last week's post:
viewtopic.php?t=523791
Defense Analyzer
The post-mortem is on the last post of last week's. To summarize, the Analyzer performed as well as most commercially available ranking lists, better than a few, only one did slightly better and 70% of the top 10 picks were above average with 50% being 10+ point games. Only KFFL did better last week.
The Defense Analyzer was originally developed based on a statistical analysis of correlation between particular stats (sacks, turnovers, TDs, points against) to determine which combination was most predictive of a break out game (10+ or more points). The analysis showed that while a defense that allowed the fewest points is great in real life, from a fantasy perspective, sacks and turnovers were more predictive of a good fantasy score. Largely because the median score for points against (in the 20s) provided almost no points to a defense but sacks and turnovers were positives. TDs obviously have an even bigger impact but other than sacks and turnovers, are very hard to predict.
My method is to take the matchups for the week, use the defense's Sacks and weighted Turnovers average per game and compare it to the sacks and turnovers given up by the opponent every week. I sum them to get a score. After I do that, I look at the individual performance of the defense as well as opponents. Last year, playing the defense that faced STL every week was better than SF (the number one defense in my league).
DEFENSE ANALYSIS
Rank, defense, matchup, turnovers/sacks by defense, turnovers/sacks by offense, sum

DEFENSE PERFORMANCE
On the left are defenses and the number of points scored each week in my league. On the right are the points given to defenses by a particular team.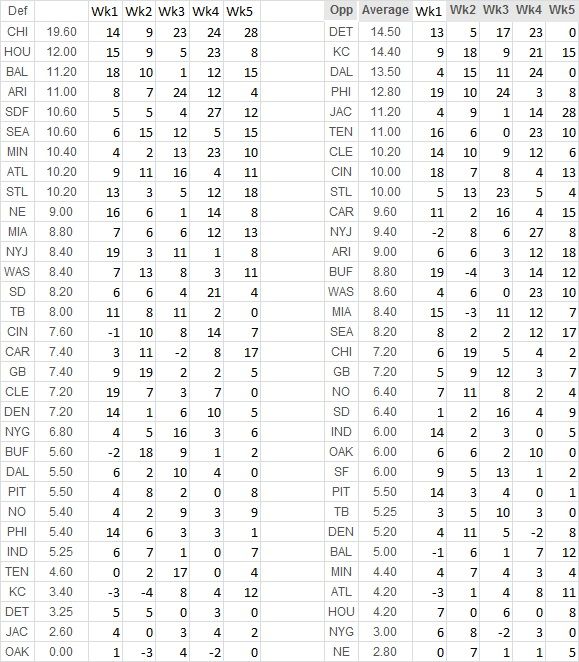 Kansas City note: Every year there's some poor team that is better to start against than starting the best of defenses (although this year CHI is going to be hard to beat on that scale). This year, it may be KC. KC has failed to yield a below average game all year. Look at your defense's bye week, see who KC is playing that week and you may want to pick that team up.
Final Rankings:
1) BAL v. DAL: Baltimore has only had one bad game vs. NE and breakout games all four others. Dallas has only given up one bad game and breakout games in the three others. Looks as good as it gets (except CHI who is on bye).
2) TB v. KC: TB has had 2/4 breakout games and 3/4 above average games facing a KC team that has given out 5 above average and 3 breakout games. Basically KC has yet to yield a 'bad' game to an opponent this year. See note above.
3) HOU vs. GB: HOU has had 4/5 above average games but only 2 breakout games. They face a GB team that has given out 3 above average games but only one breakout game. While HOU is a fine defense, this matchup is tougher and so I lowered enthusiasm slightly but still in my top 3.
4) NE vs. SEA - NE has had 3 above average games but only 2 break outs out of five while SEA has given a similar 3 above average and 2 break outs. SEA gave break out games to CAR and STL and above average to ARI and I think NE is as good or better than that group. I raised enthusiasm.
5) ATL vs. OAK: ATL has only had one bad game as a defense against a pumped up Cam and 3 break out games. They face an OAK team that has only given out one bad game, however and so will be interesting to see this matchup. OAK has only given out 2 INTs/1 fumble and 7 sacks in 4 games and are technically the least likely to give a break out game in the league from the sacks/turnovers standpoint. ATL on the other hand has the highest sacks/turnovers ratio in the league with 16 turnovers and 13 sacks in just 5 games. That's THREE turnovers per game. I bumped them up from 12th on the strength of the defense and an admitted distrust of OAK's early ball control.
6) ARI vs. BUF - ARI stumbled last week to STL. They have had 3/5 above average weeks with two break outs. BUF has given out 3 break out weeks and two bad games. As a trend, ARI seems to be fading but the matchup looks favorable statistically.
7) STL vs. MIA - STL has had 3 break-out games this season and MIA has given out 3 break out games this season. Somewhere in the middle of the upper pack but MIA disappointed CIN last week.
8) CIN vs. CLE - CIN has had 3 above average and 2 break out games as a defense but didn't show up last week vs. MIA. They had 10 points from CLE in week 2 and CLE has given out 4/5 above average games with 3 break out games however and so this looks pretty interesting.
9) MIN vs. WAS - Minnesota has had 3 break out games in a row facing a WAS team that may be sans RGIII and has given up two break out games in a row. This one may not look as pretty stats wise but looks good enough for me.
10) PHI vs. DET - PHI has only had one really good game as a defense but it's worth noting that DET has given 3 out of 4 games this year as break out games (actually worse than KC).
Risky:
SF vs. NYG: I really struggled on whether to start SF in the top 10. They've had two solid weeks vs NYJ and BUF but the giants have been the second worst team to play against (only NE being worse to play against) giving out a -2 to CAR and a zero to CLE. The highest they've given out this year was an 8 to TB. Still they haven't faced very good defenses so far this year. DAL is bottom 10 and they gave them a six and in week 4 they faced PHI which is also bottom 10 and gave them a 3. SF struggled early against GB, DET and MIN but have stabilized nicely vs. NYJ and BUF. Still, I fear that the Giants are an elite team more on the level of GB or MIN and SF may fall back down this week. Tough call as I'm betting SF makes the top 10 in many other rankings (and I have SF on my team). Still, I couldn't find someone I would drop in the top 10 for SF who so far looks like a matchup play rather than the must start they were last year.
CLE vs. CIN - As with the MIA pick last week, this one is a bit out of left field. CLE has only had one good game all year and just dropped a goose egg. CIN however, has given out 3 above average games with two break out games. I couldn't put this above SF but it was the fourth most favorable on my sacks/turnovers ranking. CLE has 7 Picks and 13 sacks and 4 fumbles as a defense in 5 games. That's about 2 turnovers and 2 and a half sacks per game. Cincy has given up 6 picks, 15 sacks and 4 fumbles or about 2 turnovers and 3 sacks per game. However, most of CLE's picks were vs. Michael Vick who had 4 on week 1 and McCoy fumbled it so 5 of their 11 turnovers were in week 1. After that, they really haven't been very special as a defense.
DET vs. PHI - Vick hasn't thrown a pick since week 2. But it's hard to throw INTs when you keep fumbling the ball. PHI has given 4 above average games and 3 break out games in their first five. DET however, hasn't had a single above average game yet this year and has one of the lowest rates of sacks/turnovers. I think it's possible that Vick holds onto the ball well here here but his history is against him and so I pulled from top 10. Up to you though.
BUF vs. ARI - BUF has only had 2 good games as a defense all year. ARI has given out double digits in the past two weeks. I dropped from the top 10 mostly in that BUF has performed well vs . KC and CLE but not vs. the jets, NE and SF. ARI is likely between those groups in quality and so I was hesitant to recommend the bills. ARI has given up 23 sacks the year but only 3 picks and 2 fumbles in 5 games. Consider Risky.
Avoid?
SEA is a solid defense with 3 break out weeks but face a NE team that has yet to yield an above average game with the best outing given as 7 points vs. ARI. They gave BAL one point as a defense in week 3 and a goose egg to WAS. I think a lot of SEA as a defense having gotten break out games vs. DAL, GB and CAR but I'm not sure they'll do it vs. Brady and Ridley. Brady has only given up 1 pick in 5 games and has been sacked 12 times. NE has only had 3 fumbles in 5 games. It doesn't look as promising as their statline suggests.
Good luck everyone and if you have any insider information you want to share please do!