Last week's post:
viewtopic.php?t=525021
Post-Mortem for Last week:
1) BAL- 8
2) TB - 14
3) HOU - 4
4) NE - 6
5) ATL - 16
6) ARI - 7
7) STL - 3
8) CIN - 3
9) MIN - 2
10) PHI - 2
Median score 7.5
Only 3/10 were above average this week with 2 being breakout games.
A terrible week for the Analyzer.
Missed: DEN-29; NYG-19, CLE-16, NYJ-16, WAS -16, BUF - 12, SD-12, KC-10, DET-9, GB-9, OAK -8
Bleacher had BAL-8, CIN-3, PIT - 5, DET-9, STL - 3, SF-0, ATL - 16, ARI-7, HOU-4, PHI-2 which was also 3/10 but only 1 break out. Analyzer has 'beaten' Bleacher two weeks in a row and we'll drop it from our comparisons.
KFFL: BAL - 8, CIN-3, STlL-3, MIA - 6, ARI-7, NE-6, BUF-12, TB-14, DET,9, PH-2; 4/10 above average with 3 breakouts; Did better than the analyzer.
Michaels/Yahoo blogger: PIT-5, HOU, 4, BAL, 8 SF-0, NYG-1, CIN-3, MIN-2, ATL-16, NE-6, DEN-29; 4/10 above average with 2 breakouts, did better than analyzer.
NFL: PIT-5, BAL-8, TB-14, ATL-16, CLE-16, NYJ-16, BUF-12, SD-12, MIA-6, SF-0; 7/10 above average and 6/10 breakouts! Much better! We'll definitely keep looking at the NFL projection system.
FF Toolbox: HOU-4, ARI-7, NE-6, SF-0, BAL-8, PIT-5, MIN-2, BUF-12, PHI-2, DET-9; 3/10 above average 1 breakout, worse than Analyzer. That's two weeks in a row the analyzer has beaten the FF toolbox, so we'll drop it from comparison.
ESPN: CIN-3, STL-3, IND- -3, MIA-6, MIN-2, NE-6, WAS-16, BUF-12, DAL-0, TEN-3, 2/10 above average, 2 breakouts, worse than Analyzer, will drop from comparisons.
Fantasy Fix: BAL-9, SF-0, PIT-5, ATL-16, MIA-6, NE-6, ARI-7, MIN-2, PHI-2, HOU-4; 2 above average, one breakout. Worse than analyzer. Last week FFix was better than Analyzer, this week worse than analyzer. Will keep for comparison.
Yahoo: PIT-5, ARi-7, BAL-8, SF-0, ATL-16, TB-14, MIA-6, PHI-2, DET-9; 4/10 above average, 2 breakout games. About as good as analyzer, one more above average game but one fewer breakout game. Will keep for comparison.
Thus far, the Analyzer has been better than Bleacher, FF toolbox and ESPN.
About the same as FF Fix.
KFFL and the NFL computerized scoring system were better than the Analyzer.
The Analyzer was correctly cautious of SF but the other 3 risky bets BUF, CLE and DET) turned in above average to break out games.
If we looked at the unedited top 10 of the analyzer: TB-14, HOU-4, BAL-8, CLE-16, ARI-7, STL-3, NE-6, BUF-12, DET-9, CIN-3 we would have had 5 above average with 3/10 breakouts. Actually better than when we adjusted the rankings.
However, the system continues to perform as well or better than other commercially available systems and I can produce it every week before the typical Wednesday Waiver Wire picks. And I'm pretty sure I'm the only one showing how well (or as in this week how poorly) I'm doing every week.
So moving right along!
Defense Analyzer
The Defense Analyzer was originally developed based on a statistical analysis of correlation between particular stats (sacks, turnovers, TDs, points against) to determine which combination was most predictive of a break out game (10+ or more points). The analysis showed that while a defense that allowed the fewest points is great in real life, from a fantasy perspective, sacks and turnovers were more predictive of a good fantasy score. Largely because the median score for points against (in the 20s) provided almost no points to a defense but sacks and turnovers were positives. TDs obviously have an even bigger impact but other than sacks and turnovers, are very hard to predict.
My method is to take the matchups for the week, use the defense's Sacks and weighted Turnovers average per game and compare it to the sacks and turnovers given up by the opponent every week. I sum them to get a score. After I do that, I look at the individual performance of the defense as well as opponents. Last year, playing the defense that faced STL every week was better than SF (the number one defense in my league).
DEFENSE ANALYSIS
Rank, defense, matchup, turnovers/sacks by defense, turnovers/sacks by offense, sum
DEFENSE PERFORMANCE
On the left are defenses and the number of points scored each week in my league. On the right are the points given to defenses by a particular team.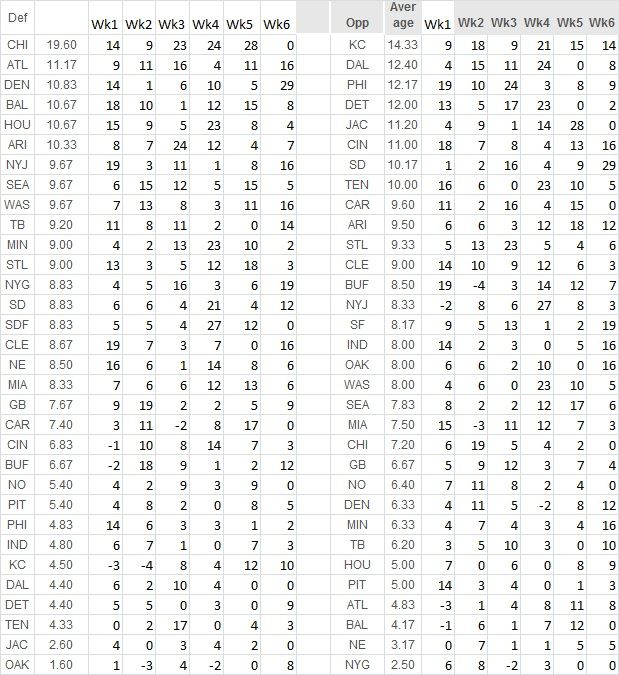 Kansas City note: Every eyar, there's some poor team that it is better to start against than starting the best of defenses (although this year CHI is going to be hard to beat on that scale). This year, it may be KC. KC has failed to yield a below average game all year. Look at your defense'ss bye week, see who KC is playing that week and you may want to pick that team up. Unfortunately both KC and PHI are on bye's this week.
Final Rankings:
1) CHI vs. DET - Chicago has posted 5/5 above average games with 4 breakout games of which 3 have been over 20 points. Start every week.
2) MIN vs. ARI - MIN Has 3/6 breakout weeks playing an ARI team that has given 3 weeks in a row of bad outings. Despite this past week's 2 pointer, I still think MIN is a defense worth starting and things seem to be falling apart in ARI. In particular if Kolb is out. Second stringers are usually very generous.
3) TB vs. NO- A bit odd putting this up here but that's what the stats say. TB now has had 4/5 above average and 3 breakout weeks playing a NO team that has given 2/5 above average and one beakout week. Not as good a matchup as last week's and TB is no stud of a defense. But still showing up pretty well. They've played the NYG and got 8 points and I think NO maybe slightly easier to play than the giants. Raising enthusiasm slightly. CAVEAT: TB is a terrible passing defense and a very good rushing defense while NO is a very good passing offense with a so-so rushing offense. The stars align well for Brees et al.
4) ARI vs. MIN - ARI has had 3/6 above average games and 2 breakout games. MIN has only given out 1/6 above average games and 1 breakout game. Lowered enthusiasm for this one but ARI has one of the highest sack/turnover ratios in the game
5) PIT vs. CIN - No breakout games and only 2 above average games for PIT so far this year but CIN has risen quickly to being one of the most fun teams to play against. They have given out 4/6 above average games and 3/6 breakout games. PIT doesn't get a lot of takeaways but CIN is the most favorable matchup this week. Raised enthusiasm.
6) CAR vs. DAL - DAL is now the second most fun team to play against giving out 4/5 above average games and 3/5 breakout games. They are giving more points out than ATL, DEN, BAL and HOU are getting as defenses. CAR has had 3/5 above average games and 2/5 breakout games so I think it's possible they'll have a break out vs. DAL.
7) CLE vs. IND - CLE was a flyer last week but now has 2/5 breakout games and another 2 which were close. They play IND who has given 2/5 breakout games as well. CLE may be overranked because of week 1 vs. PHI but showed up again last week vs. CIN. However, they have one of the highest turnover/sacks ratios for the week.
8) NE vs. NYJ - NE has had 3/6 above average games with 2 breakouts playing a NYJ team that has given 3/6 above average weeks and one breakout. Kept in the top 10. I'm also betting Belichek is reaming them out for losing to SEA.
9) BAL vs. HOU - BAL has 5/6 above average games and 4/6 breakout weeks but playing a HOU team that has only given 2 above average games and no breakout weeks. Could be tough to produce a breakout with injuries to their defense as well this week. However, it's hard to drop BAL from the top 10 given that they've been steady producers of points all year.
10) HOU vs. BAL - HOU has had 4/6 above average games with 2 breakout games playing a BAL team that has only given 1/6 good games. A riskier play this week but as with BAL, hard to pull from the top 10 given their steady production all year.
Risky Play:
NYG vs. WAS - Only 2 breakout games for the giants and WAS has only given up 2 breakout games. The Giants just got 19 points off of SF but I kept this off top 10. Still, worth noting it was top 10 by the sacks/turnovers ratio though and higher than BAL or HOU is ranked by that marker. I'm betting it shows up on a lot of other sites. While a huge performance vs. SF this past week, really, the giants haven't been beating the daylights out on defense this year yet.
BUF vs. TEN - BUF has had 3/6 above average with 2/6 breakout weeks playing a TEN team that has given 3/6 breakout weeks. This one shows up based on the ratio of above average games and is statistically the same as a HOU vs. BAL or BAL vs. HOU. If you're really hurting to find a defense this week, I'd consider this one. HOwever, I couldn't find a matchup I would drop to put in its place.
NYJ vs. NE: NYJ have had 4/6 above average and 3/6 breakout games but playing a NE team that has yet to yield an above average week. As with SF vs. NYG last week, I just couldn't put the jets into the top 10 this week because of tehir matchup.
SF vs. SEA - ALthough sacks/turnovers ratio is higher than BUF and HOU, SF has not been producing well as a defense this year with only 2/6 above average/ breakoout games playing a sea team that has given 3/6 above average with 2 breakout games. Of course, SEA is no NYG and are a high quality defense. Thus I would still at least consider a start here.
SEA vs. SF - SEA had had 3/6 breakout games playing a SF team that has given out 3/6 above average games. Normally this would make a top 10 but the sacks/turnover ratio here is on the low end of the metric. I'm not sure how to interpret it but as with SF, if you're hungry, I think SEA could warrant a start.
Avoid?
STL vs. GB - STL has 3/6 breakout games and GB has only given 2/6 above average games but no matter what the stats say, I just have a really bad feeling about this one. I think Rodgers is going to be pretty damn hard to stop. STL is technically the toughest passing defense but HOU was supposed to be until Rodgers lit them up. Lowering enthusiasm.
DAL vs. CAR - DAL has only had 1/5 breakout games but thye play a CAR team that has given 3/5 breakout games. DAL has an impressive pass and rush defense but not producing a lot of turnovers or sacks. This one depends on good or bad Cam showing up.
Hoping for a better week than last weeks. Last week also had the fewest breakout weeks since the year began and the average score was lower than usual. Still, feel badly that the analyzer performed so terribly although reassuring that few others were better. Good luck!