POST MORTEM
Last weeks post:
viewtopic.php?t=526163
1) CHI-15
2) MIN - 18
3) TB - -2
4) ARI - 8
5) PIT - 3
6) CAR - 3
7) CLE - 6
8) NE - 16
9) BAL - -2
10) HOU - 20
Median Score was 6. 6/10 were above average, 3 break out games
NFL had CLE-6, SEA - 8, BAL -2, PIT-3, NYG-11, STL-2, SF-11, CHI-15, CIN-7, IND-4 or 6/3 same as Analyzer
KFFL had MIN-18, NYG-11, CHI-15, CLE-6, SEA-8, PIT03, NE-16, BUF-4, GB-6, CAR-3 or 7/4 better than Analyzer. Had been worse two weeks prior.
Michaels Blog: GB-6, SF-11, SEA-8, HOU,20, CHI-15, NE-16, NYG-11, MIN,18, PIT-3, DAL-7 or 9/6 much better than Analyzer. Last week as good as Analyzer
FFtoolbox: SF-11, GB-6, CHI-15, BAL-2, HOU-20, NYG-11, NE-16, SEA-8, MIN-18, BUF-4 or 8/6 much better than analyzer. Last week as good as analyzer
Yahoo: CHI-15, MIN-18, GB-6, SF-11, NE-16, SEA-8, ARI-8, DAL-7, PIT-3, HOU-20 or 9/5 also much better than Analyzer although posted late.
Analyzer continued to out perform other systems but these particular appear to be consistently as good as or better than the analyzer. In looking at the common calls, the giants and SF were picked by 4 other systems. GB was as well and only produced an average game. BUF, DAL, STl, CIN and IN were picked by 2 or fewer other systems and all of those produced below average games. For the Analyzer, ARI, CAR and TB were picked by 2 or fewer other systems of which only ARI had a slightly above average game. CLE and BAL were chosed by 2 other systems and had poor showings. HOU was picked by 3 of the other 5 systems and had a great game. PIT, NE, MIN and CHI were all picked by 4 or more other systems and only PIT had a poor game.
Thus, if you take these 6 systems of picking games, it appears that a consensus between them has a high probability of a good game and lack of consensus has a low probability of a good game.
We'll keep this in mind going forward:
DEFENSE ANALYZER
The Defense Analyzer was originally developed based on a statistical analysis of correlation between particular stats (sacks, turnovers, TDs, points against) to determine which combination was most predictive of a break out game (10+ or more points). The analysis showed that while a defense that allowed the fewest points is great in real life, from a fantasy perspective, sacks and turnovers were more predictive of a good fantasy score. Largely because the median score for points against (in the 20s) provided almost no points to a defense but sacks and turnovers were positives. TDs obviously have an even bigger impact but other than sacks and turnovers, are very hard to predict.
My method is to take the matchups for the week, use the defense's Sacks and weighted Turnovers average per game and compare it to the sacks and turnovers given up by the opponent every week. I sum them to get a score. After I do that, I look at the individual performance of the defense as well as opponents. Last year, playing the defense that faced STL every week was better than SF (the number one defense in my league).
DEFENSE ANALYSIS
Rank, defense, matchup, turnovers/sacks by defense, turnovers/sacks by offense, sum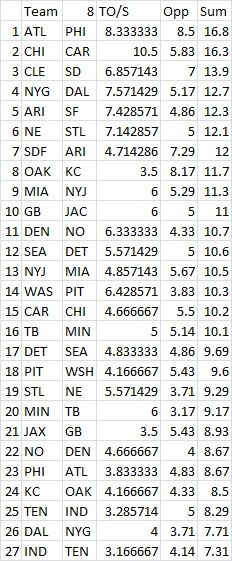 DEFENSE PERFORMANCE
On the left are defenses and the number of points scored each week in my league. On the right are the points given to defenses by a particular team.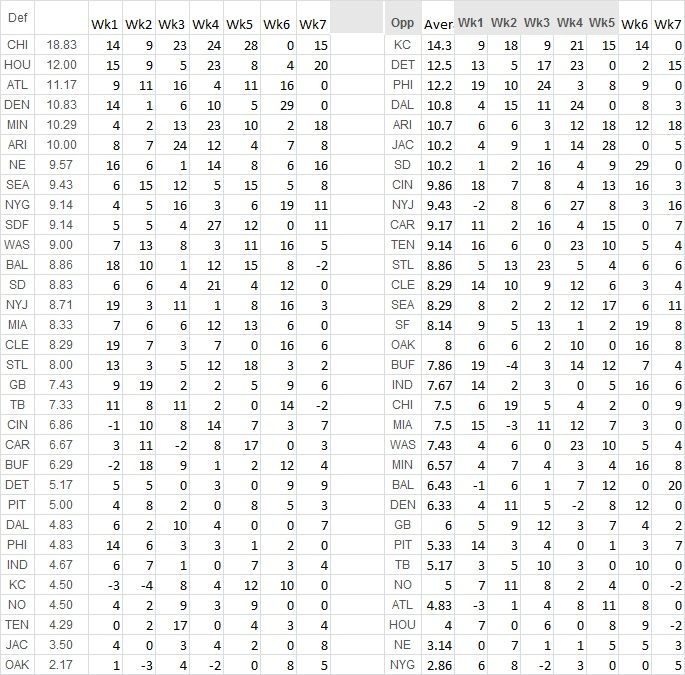 Kansas City note: Every year, there's some poor team that it is better to start against than starting the best of defenses (although this year CHI is going to be hard to beat on that scale). This year, it may be KC. KC has failed to yield a below average game all year. Look at your defense's bye week, see who KC is playing that week and you may want to pick that team up. Unfortunately both KC and PHI are on bye's this week.
Final Ranknigs
1) CHI v. CAR - Stud, start every week.
2) ATL v. PHI - ATL has 5/6 above average games with 4 breakouts playing a PHI team that has given 5/6 above average games with 3 breakouts.
3) SF v. ARI - SF has had 3 out of their last 4 with breakout weeks playing an ARI team that has given 4 straight breakout weeks.
4) SEA v. DET - SEA has had 4/7 above average with 3 breakout weeks playing a DET team that has 4/6 breaktout weeks given up. DET is the second best team to play against as a defense.
5) OAK v. KC - Whie OAK is one of the worst defenses in the league with only one above average game, they are playign a KC team that has given 6/6 above average games and 4 break out games. This will be the ultimate test of the KC rule. At present, playing the defense playing KC or DET would average you more points than HOU as a defense. But if even lowly KC can have a break out game vs. KC that would seal it for me.
6) NYJ v. MIA - NYJ have 4/7 above average games with 3 breakouts playing a MIA team that has given 3/6 above average all breakouts. This is about the same level as the MIA NYJ game but I gave the nod here as the jets have played well against lesser teams like BUF, MIA and IND and even got an 8 from HOU.
7) MIN vs. TB - MIN has been hot with 4 of the last 5 games being break out games but playing a TB team that has only given 2/7 breakout games. It will be interesting to see if MIN can produce here and the sacks/turnover is one of the lower end in the spectrum. They are here because they seem too hot to sit at this point.
8) NE v. STL - NE has had 4/7 above average with 3 breakouts playing a STL team that has only given 2/7 above average games. While a solid defense, STL has not been as generous as last year.
9) NYG v. DAL - The giants have 3/7 breakout games with dal giving 3/6 break out games.
10) GB vs. JAC - GB hasn't been on fire as a defense this year with only 3/7 above average games and only one break out. JAC has given 3/6 above average games with 2 breakouts. This isn't a terrific pick but makes the top 10 in the sacks/turnovers metric and frankly, GB has been a dominating offense for several weeks now and JAC has given generous points to HOU, CHI and CIN.
Riskier Plays
ARI v. SF - ARI hasn'thad a break out week in a month but has 3/7 above average games as a defense and playing a SF team that has given out 4/7 above average games wtih 2 breakout weeks. Not a blockbuster but the to/s ratio looks good. But ARI has gotten cold as a defense and that has me worried vs. SF.
MIA vs. NYJ - MIA has only had 2/6 above average games as a defense playing an inconsistent jets team that has given 4/7 above average games with 2 breakouts. MIA is solid against the run and decent against the pass playing a jets team that favors the rush. Should be interesting to see if more turnovers pop up because of this and the sacks/turnovers metric is more favorable than the jets vs. MIA. Still, the jets have been more consistent as a defense than MIA has.
CLE vs. SD - CLE has been inconsistent as a defense with only 2/6 above average games (both breakouts) playing a SD team that has also been inconsistent giving only 3/6 above average games (2 breakouts). I'd bet that outside of the statistics, SD will have a good day against a CLE team that is 27th vs. the pass and 22nd vs. the rush and hopefully Rivers won't have 5 turnovers again. I'm betting this is a riskier play but the sacks/turnover is 3rd highest on the metric but I just didn't see it making the top 10.
DEN vs. NO - DEN was inspired vs. SD and has had 3/6 above average games, all breakouts but playing a NO team that is one of the worst matchups to play against with 2/6 above avearge and only one break out game. Approach with caution.
Caution:
PIT has been making a lot of the top 10 defense lists throughout the experts polls but I'd caution that they've onlyhad 2 out of 6 above average games and zero breakouts playing a WAS team that has given 2/7 above average games with 2 break outs. They do not appear to be the once-studly defense of olde.
Last week was much improved over the week before although I think the comparison with other ranking systems will improve on the picks.
Good luck!