POST MORTEM
Last week's Post:
viewtopic.php?t=527152
1) CHI-12
2) ATL-4
3) SF-12
4) SEA-3
5) OAK-12
6) NYJ-3
7) MIN- (-3)
8) NE- 10
9) NYG-22
10) GB-11
MED score of 5
6/10 above average and all 6 were breakouts
Others
NFL: SF-12, NYJ-3, GB-11, MIA-18 ; SEA-3, CHI-12, OAK-12, NYG-22, IND-6, DAL-5=6 above avg, all 6 breakouts, as good as analyzer
KFFL: SF-12, GB-11, MIA-18, ATL-4, NE-10, NYG-22, KC-2 OAK-12, SD-6, MIN (-3);=6 above avg, all 6 brak outs as good as analyzer
Bleacher: SF-12 GB-11, CHI-12, ATL-4, NYJ-3, SEA-3, DET4 ARI-4 MIA (18), MIN-(-3)=4 above average, worse than analyzer again, will drop from analysis.
FFToolbox: SF-12, CHI-12, GB-11, NE-10, NYG-22, SEA-3, PIT-5, ARI-4, ATl-4, NJ-3=5 above average, all break outs, not as good as analyzer; that's 2/3 weeks ff toolbox not as good as analyzer.
Yahoo: CHI-12, SF-12, GB-11, MIN(-3), NE-10, ATL-4, SEA-3, NYG-22, NYJ-3, MIA (18): 6 above avg, all 6 break outs, as good as analyzer
Summary counts
6-SFand GB were chosen by all 6 and both breakoutgames
5-CHI, ATL, SEA, NYJ and NYG were chosen by 6 and only 2/5 had breakout games
4-MIN, NE and MIA were chosen by 4 and 2/3 had breakout games
3-OAK chosen by 3 and had a breakout game
2- ARI chosen by 2 and did not have a breakout game
1- IND, DAL, KC, SD, PIT and DET were chosen by only one and none had a break out game
For 4-6, that's 10 teams of which 6/10 had break out games
Of 1-3 top picks, 1 out of 8 had break out games
In all, enough evidence to keep going on the analyzer.
DEFENSE ANALYZER
The Defense Analyzer was originally developed based on a statistical analysis of correlation between particular stats (sacks, turnovers, TDs, points against) to determine which combination was most predictive of a break out game (10+ or more points). The analysis showed that while a defense that allowed the fewest points is great in real life, from a fantasy perspective, sacks and turnovers were more predictive of a good fantasy score. Largely because the median score for points against (in the 20s) provided almost no points to a defense but sacks and turnovers were positives. TDs obviously have an even bigger impact but other than sacks and turnovers, are very hard to predict.
My method is to take the matchups for the week, use the defense's Sacks and weighted Turnovers average per game and compare it to the sacks and turnovers given up by the opponent every week. I sum them to get a score. After I do that, I look at the individual performance of the defense as well as opponents. Last year, playing the defense that faced STL every week was better than SF (the number one defense in my league).
DEFENSE ANALYSIS
Rank, defense, matchup, turnovers/sacks by defense, turnovers/sacks by offense, sum
And this shows the output by week: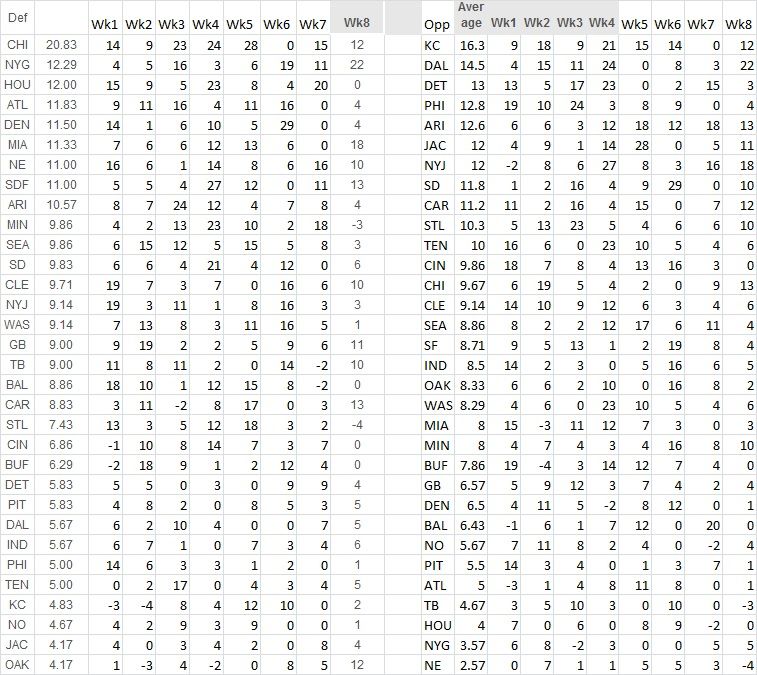 Note: KC gave out a breakout game to OAK, arguably the WORST defense in the league. This seems to support very strongly that KC is the team that you may be better starting any defense against on average than perhaps CHI.
Final Rankings:
1) CHI vs. TEN - CHI is uber studly all year and while TEN hasn't been as giving in the last 3 weeks, still looks like a good start
2) ATL vs. DAL - 5/7 games DAL has given out plenty of love and ATL has really only had one bad week as a defense.
3) GB vs. ARI - While GB has only had one break out week all year, ARI has given 5 breakout weeks in a row. Good to go!
4) SD vs. KC - SD has only had 2 break out weeks but so far, KC has not yielded a bad game to any defense. Could break a trend but could also keep the trend.
5) NYG vs. PIT - NYG have had 4/8 break out games with 3 in a row. PIT however, has given only one break out game all year.
6) HOU vs. BUF - HOU has 5/7 above average games and plays a BUF team that has given out 3/7 break out games.
7) BAL vs. CLE - BAL has 5/7 games as above average with 4 breakouts and CLE has given up 3/8 above average games but has been stingy for over a month now. Two weeks ago, BAL managed only -2 points but that was vs. HOU. I don't think CLE is anywhere near as worrisome.
8) WAS vs. CAR - WAS has 4/8 above average weeks and several break outs playing a CAR that has given 4/7 above average/break out weeks. WAS may have their hands full this week however with CAR.
9) DEN vs. CIN - Denver blows hot and cold as a defense with only 3/7 games as break out games facing a CIN team that has given out only 3/7 break out games. But the Sacks/TO is highly favorable here and makes a top 10
10) SEA vs. MIN - SEA has 4/8 above average games with 3 break outs playing a MIN team that has given 3 above average and 2 breakout weeks in a row. SEA has been cooling off as a defense the last 3 weeks.
Riskier:
MIA vs. IND - MIA has been hot with 3 of their last 4 games being break out but playing an IND team that has only 2/7 break out weeks. It will be interesting to see if this breaks out but overall, it didn't replace one of the top 10 on likelihood. I have heartache about not putting such a hot defense in the top 10 and am betting others will.
MIN vs. SEA - MIN has 4 of 8 games a breakout defense and SEA has given 4 of 8 games as above average with 3 break outs. But the sacks/turnover ratio was truly unimpressive looking and so I couldn't argue it into the top 10.
NO vs. PHI - PHI has given 5/7 above average games but NO has only had 2/7 above average games. PHI has also been getting colder as an opponent over time and the high S/TO days may be ending for PHI. I'm not sure that this replaces SEA vs. MIN or DEN vs. CIN.
CLE vs. BAL - CLE continues to have a few good showings here and there and while BAL has given 2 of their last 3 games a break out games, I just don't have that kind of faith in CLE as a defense.
Caution: ARI vs. GB - I'm betting others put this one up as a potential pick. ARI does have 4/8 above average games but GB has been a terrible opponent the last 5 weeks and ARI seems on the decline as a defense. It does have a high ratio, however and is worth mentioning.
Sorry for the late post. Good luck!