Last week's post:
viewtopic.php?t=528834
I NEED A VOLUNTEER! - I'm traveling to Europe leaving at noon today. Could someone please provide the comparison of Analyzer's ranking with the other systems out there by Thursday? Just do what I did, go to NFL.com defense projections, watch for Yahoo's composite ranking, google Hawk Michaels defense rankings, FFtoolbox, FFfix and KFFL all are easily findable. These have been the best performing of the rankings that I've seen. I also won't be around this week to answer specific questions. Sorry!
POST MORTEM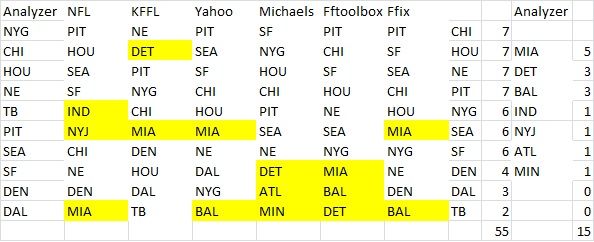 Median score:8
Analyzer: NYG-1, CHI-9, HOU-15, NE-8, TB-18, PIT-8, SEA-16, SF-4, DEN-26, DAL-24: 8/10 above average; 5/10 breakout
NFL: PIT-8, HOU-15, SEA-16, SF-4, IND-20, NYJ-13, CHI-9, NE-8, DEN-26, MIA-0; 8/10 above average; 5/10 breakout - as good as analyzer
KFFL: NE-8, DET-0, PIT-8, NYG-1, CHI-9, MIA-0, DEN-26, HOU-15, DAL-24, TB-18'; 7/10 above average; 4/10 breakout - not as good as analyzer
Yahoo: PIT-8, SEA-16, SF-4, CHI-9, HOU-15, MIA-0, NE-8, DAL-24, NYG-1, BAL-16; 7/10 above average; 4/10 breakout - not as good as analyzer
Michaels: SF-4, NYG-1, HOU-15, CHI-9, PIT-8, SEA-16, NE-8, DET-0, ATL-2, MIN-6; 5/10 above average; 2/10 breakout - bad week!
FFtoolbox: PIT-8, CHI-9, SF-4, HOU-15, NE-8, SEA-16, NYG-1, MIA-0, BAL-16, DET-0; 6/10 above average; 3/10 breakout - bad week!
FFix: PIT-8, SF-4, SEA-16, CHI-9, HOU-15, MIA-0, NYG-1, NE-8, DEN-26, BAL-16' 7/10 above average; 4/10 breakout - not as good as analyzer
Overall a good week for the Analyzer. No system performed better and most systems performed worse than the Analyzer. NFL projections have consistently done as well or better than the analyzer. Yahoo and Michaels blog had in prior years done as well as analyzer or better but Analyzer appears to have the edge this year.
CHI, HOU, NE and PIT were selected by all 7 systems and all 4 had above average games and 1 breakout
NYG, SEA and SF were selected by 6. and 1/3 had aboveaverage/breakout
MIA was selected by 5 systems and had a zero
DEN was selected by 4 systems and had an aboveaverage/breakout.
Of the 9 teams with 4 or more picks, 6/9 had above average weeks with 3/9 breakouts.
DET, BAL AND DAL all received 3 picks and BAL and DAL had above average/breakouts
TB was picked by 2 including analyzer and had an above average/breakout
IND, NYJ, ATL and MIN were each selected by only 1 of the systems and 2/4 had above average/breakout weeks
Of the 9 teams with 3 or fewer picks 5/9 had above average games with all 5 being breakouts.
An anomaly this week as those with 3 or fewer picks actually had more breakouts than those with 4 or more but the weeks past have shown a much better ratio for those teams that had 4 or more picks. I would point out that TB this week and SD last week were both picked by analyzer but not well represented in other systems yet had breakout weeks. Hopefully that means I'm doing something right here.
DEFENSE ANALYZER
The Defense Analyzer was originally developed based on a statistical analysis of correlation between particular stats (sacks, turnovers, TDs, points against) to determine which combination was most predictive of a break out game (10+ or more points). The analysis showed that while a defense that allowed the fewest points is great in real life, from a fantasy perspective, sacks and turnovers were more predictive of a good fantasy score. Largely because the median score for points against (in the 20s) provided almost no points to a defense but sacks and turnovers were positives. TDs obviously have an even bigger impact but other than sacks and turnovers, are very hard to predict.
My method is to take the matchups for the week, use the defense's Sacks and weighted Turnovers average per game and compare it to the sacks and turnovers given up by the opponent every week. I sum them to get a score. After I do that, I look at the individual performance of the defense as well as opponents. Last year, playing the defense that faced STL every week was better than SF (the number one defense in my league).
DEFENSE ANALYSIS
Rank, defense, matchup, turnovers/sacks by defense, turnovers/sacks by offense, sum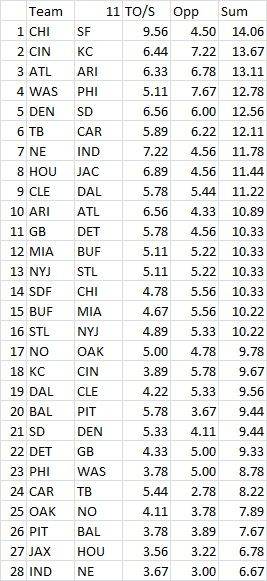 And this shows the output by week:
KC Note: KC gave out an 8 last night which was about average/slightly above. The first week since week 3 they haven't given a breakout game. PIT has been pretty bad about turnovers, particularly interceptions this year and that may have played a role but so far, still hasn't given out a bad week as an opponent.
Final Rankings:
1) HOU vs. JAC - HOU has had 7/9 above average games with 4 break outs playing a JAC team 5/9 above average with 4 breakouts. Looks very good.
2) CIN vs. KC - Although only 4/9 breakout weeks for CIN, they handled a tough NYG team and face a KC that has been the most generous this year
3) DEN vs. SD - DEN is now the number 2 defense in my league and tied with HOU. They have 5/9 break out weeks and 2 in a row playing a SD team that has given up 5/9 above average and 4 breakout weeks. 3 of DEN's last four games have been breakout weeks
4) CHI vs. SF - With Alex Smith down with a concussion and a new QB and CHI has been very strong as a defense with all but 2 of 9 weeks being breakout weeks although SF has not been very generous as an opponent with 4/9 above average and only 2 break out weeks given this year.
5) TB VS. CAR - TB may not have any 20 point bombs but they are now 6/9 above average weeks with 5/9 breakouts facing a CAR team that has given up 5/9 breakout weeks. Cam is always dangerous but so far, this one looks good.
6) NE vs. IND - NE has slowly crept up the def ladder with 5 of their last 6 games being above average with 3 breakouts playing an IND team that has only given out 2 breakout/above average weeks and has been cold as an opponent for four straight games. Still, NE has 6/9 above average games this year and would keep this on the list.
7) WAS vs. PHI - WAS has had 3 straight below average games against averagish teams in NYG, PIT and CAR. One should remember that Vick was personally responsible for many of the turnovers seen by PHI and I lowered enthusiasm slightly because he's not there to cough up the ball. Still, I think this looks good from a pressure on QB standpoint. PHI has only given out 2 bad weeks and have given 2 weeks of 20+ points per week.
8) BAL vs. PIT - BAL has 6/9 above average games with 5 breakouts playing a PIT team that has only given out 2/9 above average/breakoutweeks. This one is here in respect to BAL but I think Big Ben's injury can only improve BAL's chances.
9) ATL vs. ARI - ARI has given 5/9 games as breakout weeks although the week before the bye only gave a 7. ATL has cooled off considerably as a defense, however with 3 straight below average games. Lowered enthusiasm slightly but still a top 10 matchup.
10) GB vs. DET - GB has only had 4/9 above average games and 2 break outs playing a DET team that has gotten a little cold with only one breakout week in the past 5 games. I'm guessing others will pick this one but I'm hesitant. DET has given up 4/9 above average weeks for the season.
Riskier Plays:
I struggled between GB, MIA, NYJ and SF to round out the top 10 and decided to go with the sacks/turnover as the tie breaker. However, I could have easily put either of the other two in there.
MIA vs. BUF - BUF has given 5/9 above average games and MIA has only 3/9 above average games and gotten cold with only one good game in the last 4.
NYJ vs. STL - the Jets have had only one of their last 3 as above average but 5/9 overall playing a STL team that has only given 3/9 above average games. Could have replaced GB with the jets but I think GB is a better defense despite the numbers
SF vs. CHI - While CHI is a dominant defense, they have suffered offensively and as an opponent have given 3 of their last 4 games as above average games with 2 break outs and for the year have 4/9 above average given out. However, SF has been hot and cold as a defense with 4 of last 6 being above average/breakouts but 2 in a row as low weeks. I couldn't put them up past GB either and with injuries in SF, I couldn't put them top 10.
Avoid: CLE vs. DAL - Only 3/9 above average/break out weeks for CLE and DAL has gotten pretty cold as an opponent with only 1 break out week in teh last 5 games. This does, however have a top 10 sack/to matchup. It's the recent trends that's worrisome.
Good luck!