Last week's post:
viewtopic.php?t=529497
POST MORTEM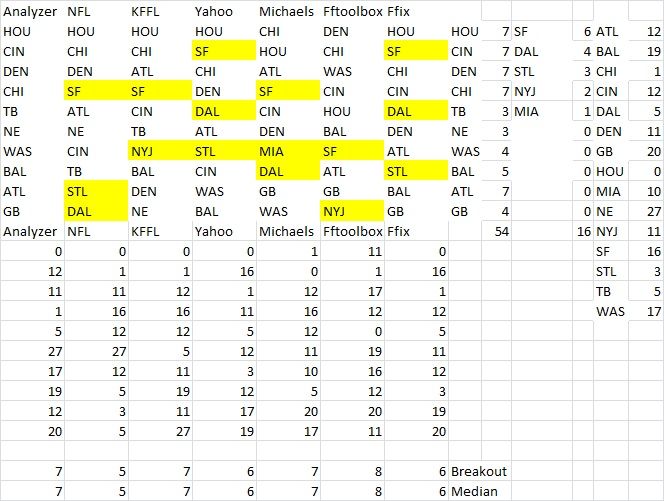 The figure above compares the Analyzer's performance to the other systems that have performed well this year. The Analyzer continued to do well but was beaten out for the first time in a month by another system (FFtoolbox).
All 7 chose HOU, CIN, DEN, CHI and ATL but both HOU and CHI had bad weeks of 0 and 1 point each.
SF was chosen by 6 systems and had a breakout week (missed call by analyzer although I was agonizing between jets, gb and sf).
BAL chosen by 5 and had a breakoutweek
WAS, GB and DAL chosen by 4 and only DAL did not have a breakout week.
Of 10 teams chosen by 4 or more of the 7 systems, 7 out of the 10 had a breakout week.
NE, TB and STL were chosen by only 3 systems and only NE had a breakout week.
NYJ and MIA were chosen by 2 and 1 system but both had breakout weeks.
So of 5 teams picked by 3 or fewer, 3 out of the 5 had breakout weeks. A much higher percentage in teh past.
NFL, Yahoo and Fantasy Fix performed less well then Analyzer while KFFL and Michaels blog did as well as the Analyzer.
DEFENSE ANALYZER
The Defense Analyzer was originally developed based on a statistical analysis of correlation between particular stats (sacks, turnovers, TDs, points against) to determine which combination was most predictive of a break out game (10+ or more points). The analysis showed that while a defense that allowed the fewest points is great in real life, from a fantasy perspective, sacks and turnovers were more predictive of a good fantasy score. Largely because the median score for points against (in the 20s) provided almost no points to a defense but sacks and turnovers were positives. TDs obviously have an even bigger impact but other than sacks and turnovers, are very hard to predict.
My method is to take the matchups for the week, use the defense's Sacks and weighted Turnovers average per game and compare it to the sacks and turnovers given up by the opponent every week. I sum them to get a score. After I do that, I look at the individual performance of the defense as well as opponents. Last year, playing the defense that faced STL every week was better than SF (the number one defense in my league).

And performance by week:
And how generous an opponent has been by week: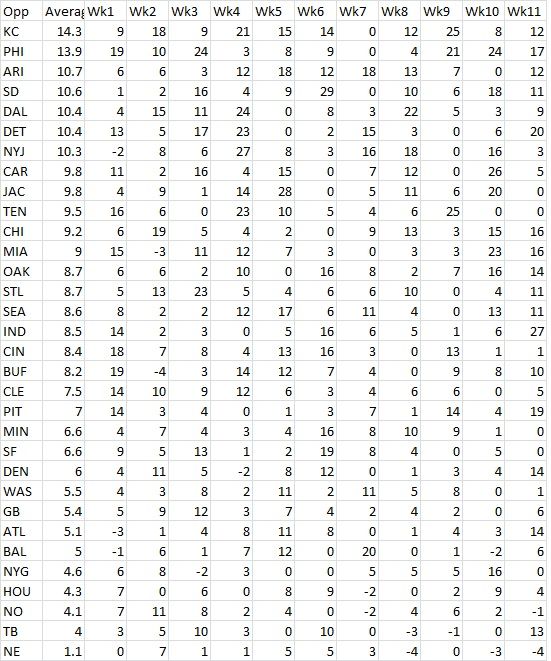 Final Rankings:
1) DEN vs. KC - DEN is the number 2 ranked defense in my league has had 4 of last 5 as breakout games and plays a KC team that has yet to give out a bad game and only 3 non-breakout games this year.
2) NE vs. NYJ - NE is now the 3rd best defense in my league, has an excellent Sacks/TO ratio playing a jets team that is giving up an average of 10 ppg and 3 of it's last 4 as breakouts
3) BAL vs. SD - BAL has definitely come back since a mid season slump and now has two breakout games in a row playing a SD team that has given 4 of it's last 5 as breakout weeks
4) CAR vs. PHI - CAR is playing better on both sides of the ball and actually has 3 of their last four games as above average with 2 breakouts playing a PHI team in seeming disarray with an average 20points given to defenses per week in the last 3 weeks.
5) CHI vs. MIN - Ugly week last week with CHI and that was their first really bad week of the season as a defense. Still, they have good fundamentals and MIN has been generous with 4 of their last 5 games being average or above. They're no SF so let's hope for better
6) HOU vs. DET - HOU also suffered a bad week along with CHI and DET is an up and down opponent although still a top 10 opponent to face.
7) SEA vs. MIA - SEA is up and down as a defense although still averaging fairly high and MIA has given out two generous weeks in a row. Think this will be okay but it's lower on the list
8) ARI vs. STL - ARI bounced back with a good game last week after being cold since early in the year, they have a nice sacks/turnover matchup vs. STL who has been inconsistent as an opponent. A bit of a flier
9) STL vs. ARI - ARI has been a very generous opponent and has only given out one below average game since week 3. STL isn't the most stellar of defenses but ARI has been just so generous!
10)MIN vs. CHI - CHI has given out 4 of their last 5 games as above average games including 3 break out weeks playing a MIN team that hasn't had a breakout in over a month. This one makes it up here as CHI has been a hotter opponent to have lately and MIN is a pretty good defense.
Riskier:
CIN vs. OAK - CIN has had a recent flare up with two break out games facing an OAK team that has also given out two break out games. They have a top 10 sacks/turnover ratio and this one may turn out okay.
NYG vs. GB - Although a top 4 sacks/turnover ratio, GB has settled down a lot since week 4 and has been just very cold and the NYG have recently gotten a little cold as a defense.
WAS vs. DAL - DAL has similarly settled down in the last 5 weeks with only one break out game given up in that time frame. WAS has only one break out in the last 4 games as well. Not a bad sacks/to but lowered enthusiasm for trends.
GB vs. NYG The giants are also no fun to play against with only one breakout week in 10 weeks. GB is a coming on defense and this has a nice sack/to ratio but I couldn't statistically put it into the top 10.
Good luck folks!