Last week's post:
viewtopic.php?t=530207
Sorry for the Thanksgiving absence (/wipes gravy from lip). Had to (/nom nom) eat big'em Turkey (/slurp).
I wasn't able to post the comparisons but here's how the Analyzer fared:
Median score: 9
1) DEN-7
2) NE-25
3) BAL-10
4) CAR-7
5) CHI-12
6) HOU-4
7) SEA-9
8) ARI-5
9) STL-23
10) MIN-4
A bad week for the Analzyer, only 5/10 were median or above with only 3 breakouts predicted. HOU struggled against DET moreso than I would have predicted and MIN wasn't able to garner many turnovers and only 1 sack with Cutler's return. CAR produced 3 fumbles, 2 off of the rookie rb but didn't convert them to scores and Nick Foles failed to throw a pick. Interesting. Vs. KC, DEN had been my top pick but they managed only 1 pick and a surprising 2 sacks. A tough week for the Analyzer but haven't had many off-weeks in several months now so will keep pressing on.
DEFENSE ANALYZER
The Defense Analyzer was originally developed based on a statistical analysis of correlation between particular stats (sacks, turnovers, TDs, points against) to determine which combination was most predictive of a break out game (10+ or more points). The analysis showed that while a defense that allowed the fewest points is great in real life, from a fantasy perspective, sacks and turnovers were more predictive of a good fantasy score. Largely because the median score for points against (in the 20s) provided almost no points to a defense but sacks and turnovers were positives. TDs obviously have an even bigger impact but other than sacks and turnovers, are very hard to predict.
My method is to take the matchups for the week, use the defense's Sacks and weighted Turnovers average per game and compare it to the sacks and turnovers given up by the opponent every week. I sum them to get a score. After I do that, I look at the individual performance of the defense as well as opponents. Last year, playing the defense that faced STL every week was better than SF (the number one defense in my league).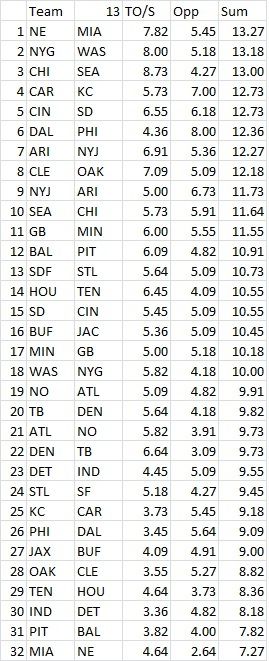 And performance by week: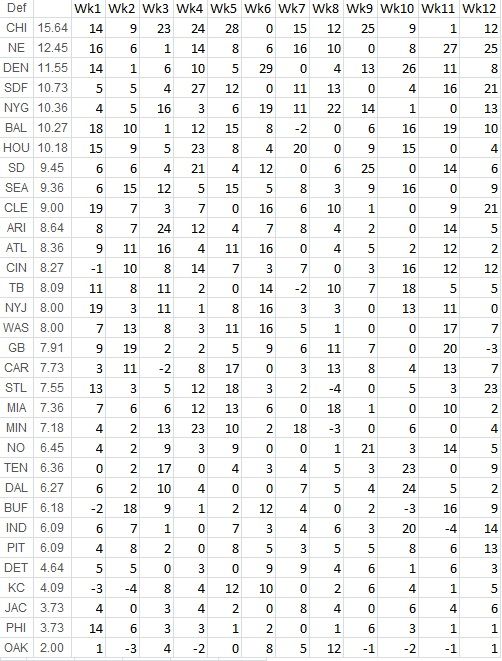 And how generous an opponent has been by week: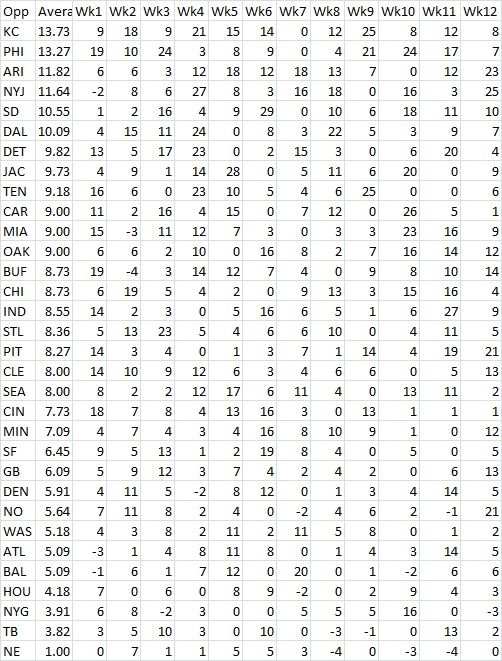 Final Rankings:
Caveat: Slim pickings this week for breakouts. Has been for several weeks but the best I can do.
1) NE vs. MIA - NE is the second best defense in muy league, have had 4 of their last 5 games as break out weeks plus two 20 plus weeks in a row. MIA has given 3 of their last 5 as above average weeks.
2) CHI vs. SEA - CHI has slowed down a little but still the number one defense in the league. SEA has only given 3 of their last 5 games as break outs although also given 2 below average weeks as well. Still looks good.
3) CIN vs. SD - CIN has had 3 breakout weeks in a row playing a SD team that has given 5 of their last 6 as breakout weeks.
4) NYJ vs. ARI - ARI has now given 7 of their last 8 games as breakout games. That's approaching KC's consistency. The Jets have only had 2 break out games in the past 5 weeks but this looks like a better matchup.
5) CAR vs. KC - KC has seemed to cool off with only one break out in the last 3 weeks but still giving average points out. CAR has had 2 of their last 5 be breakouts with 3 above averages. It rates high on the sacks/turnover ratio.
6) NYG vs. WAS - The Giants have had 5 of their last 6 games as break out weeks but play a WAS team that has not given a break out week in the last 5 weeks. Lowered enthusiasm as a result.
7) SF vs. STL - SF has fought their way back as a defense and now has 5 of their last 7 games as breakout games playing a STL team that has given only 2 of their last 5 as breakouts. While the sacks/to is not promising, this has conventional wisdom value.
8) BAL vs PIT - BAL has had 3 straight breakout games and facing a PIT team that has now given 3 of their last 4 as break-out games. However, some of that was since Big Ben's injury and he may start vs. BAL. With Big Ben at the helm, they rarely gave a break out week.
9) CLE vs. OAK - OAK has given 3 breakout weeks in a row and CLE has had 3 of their last 5 as above average weeks including 21 points vs. PIT. They have, however, had poor weeks against otherwise generous teams so approach with caution.
10) HOU vs. TEN - This is reaching pretty deep into the sacks/turnover ratio. HOU has slowed down a bit as a defense now with only 2 breakouts in the last 5 games and TEN has only given one breakout in 6 weeks. Normally, that kind of recent trend would not make a top 10. But I tried to leave this off the top 10 three times this morning and just couldn't do it. So I made them 10th. Probably should classify as a risky play but this just feels like a top 10 even if the stats don't say it. (Shaky hands).
Riskier plays:
ARI vs. NYJ - ARI has burned me for many weeks now with only 1 breakout in the last 7 games. They play a jets team that has given 4 of their last 5 games as breakouts and they keep showing up on top 10 sacks/turnovers. Still, they just aren't producing so I finally dropped them from top 10 (watch them show up now).
DAL vs. PHI was dropped from the top 10. DAL has only had one break out week in the past 8 games and although PHI has been second most generous, I do think with Vick out of the way, the turnovers will be much less frequent (sorry Vick fans). PHI gave up only one sack and no ints. They did have 3 fumbles but things will likely settle and DAL has not been superb as a defense.
I also pulled SEA vs. CHI out of the top 10. SEA is a fine defense with 4 of their lat 5 as above average but only one breakout playing a CHI team that had although they have given up 3 of last 5 as breakouts, 2 of those were with backup qbs. It's a riskier play but the lack of breakouts on SEA lowered my enthuisasm.
GB vs. MIN was passed over. MIN has given 2 of their last 5 as breakouts but GB hasn't been stellar in defense with only 2 out of 5 breakouts and the rest below average.
Good luck!