Last week's post:
viewtopic.php?t=530754
Post Mortem:
Ugh! Terrible week for the analyzer. Only 3 break out games predicted and only 5 above average. Every other system beat the analyzer this week.
NE, CHI and SF were selected by all 7 and none had a breakout game although 2 just above median score of 5
NYJ, BAL and HOU were selected by 6 and two had a breakout game and all 3 above median
ARI chosen by 5 and had a breakout game
CAR, CIN, DAL and SEA chosen by 4 and 1 break out and 2 above median
Of 11 teams chosen by 4 or more, only 3 had breakout games and 8 had above median scores
DEN chosen by 3 and had above median
BUF and CLE chosen by 2 and one above median
GB by 1 and below median.
Of those chosen by 3 or fewer, no break out games and 2 median out of those 4.
Not a great week for the analyzer and the first week this season that it was the worst of all systems. Sorry folks, some weeks it just doesn't add up.
DEFENSE ANALYZER
The Defense Analyzer was originally developed based on a statistical analysis of correlation between particular stats (sacks, turnovers, TDs, points against) to determine which combination was most predictive of a break out game (10+ or more points). The analysis showed that while a defense that allowed the fewest points is great in real life, from a fantasy perspective, sacks and turnovers were more predictive of a good fantasy score. Largely because the median score for points against (in the 20s) provided almost no points to a defense but sacks and turnovers were positives. TDs obviously have an even bigger impact but other than sacks and turnovers, are very hard to predict.
My method is to take the matchups for the week, use the defense's Sacks and weighted Turnovers average per game and compare it to the sacks and turnovers given up by the opponent every week. I sum them to get a score. After I do that, I look at the individual performance of the defense as well as opponents. Last year, playing the defense that faced STL every week was better than SF (the number one defense in my league).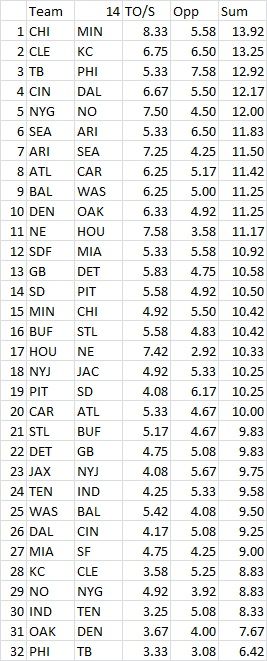 And performance by week:
And how generous an opponent has been by week: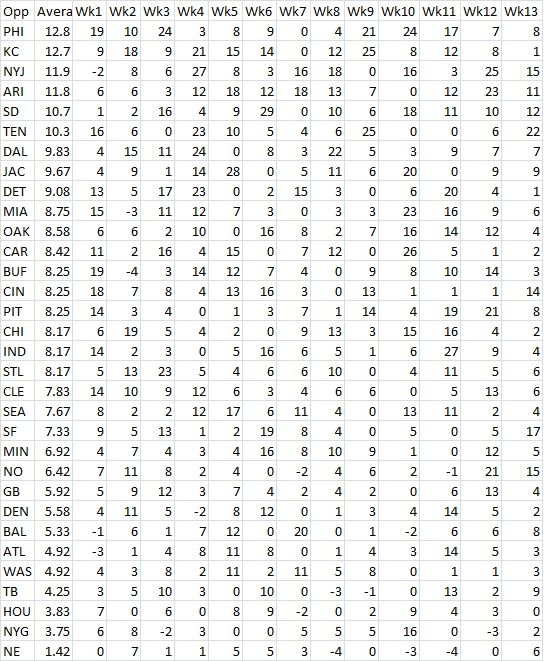 For the first time, PHI now moved above KC as how generous an opponent they are although even then, PHI did not produce a breakout week. The Jets, ARI and SD have been the most generous of recent weeks.
Final Rankings: And I thought last week was slim pickings....
1) SEA vs. ARI 8 of the last 9 games by ARI has led to a break out game. Although SEA has only had 1 break out in the last 5 weeks, they do have 3 above averages in that time frame.
2) DEN vs. OAK - OAK has given 3 of the last 5 as breakouts although only a 4 last week to CLE. Despite cooling off some, DEN is still 5 above averages and 3 breakouts in last 5 games.
3) CIN vs. DAL - CIN has had 4 breakout weeks in a row. DAL has cooled off considerably with no breakouts now in 5 weeks but the pickings are slim this week.
4) NYG vs. NO - NO has given two breakouts in a row playing a NYG team that also has cooled off as a defense with 3 good and 2 bad games recently.
5) CHI vs. MIN - CHI has definitely slowed up as a defense with only 2 breakouts in the last 5 weeks, one above average and two below average. MIN has given 2 breakouts and 3 above average in the same time frame.
6) ARI vs. SEA - ARI makes it back into the top 10. 2 of last 3 weeks with breakouts but SEA has been playing extremely well with two below average games. Tough call but there's not much out there.
7) PIT vs. SD - PIT has only had one break out game but 3 of 5 possibly 4 above average games playing a SD team that has given out 7 of it's last 8 as breakout games. Not a very good sack/to ratio but the trends put this into the top 10.
8) SF vs. MIA - SF has definitely blown hot and cold this year and only 2 breakouts in recent weeks. MIA has given 3 of their last 5 as above average however and hopefully SF is still a solid enough defense to make this one fly.
9) SD vs. PIT- SD has had 3 of last 5 games as breakout weeks and PIT has given 3 of their last 5 as breakouts. The sacks/to isn't very good and this one feels like a soft one.
10) CLE vs. KC - CLE has only had 1 break out in the past 5 weeks and 2 above average. KC had some inspired play this past week but not sure it will last. Prior to this past week, 5 above averages although no break outs now in 3 weeks. Lowered enthusiasm but otherwise a solid sack/to ratio.
Riskier:
TB vs. PHI - TB has had only one break out in the last 4 weeks and PHI has cooled off since Vick was injured But still has given 5 above average weeks. The sacks/to may be artificially high here and with recent TB performance, I couldn't pull the trigger to put this up there.
BAL vs. WAS - BAL has had four above average games and 3 break outs recently against some very good teams. WAS, however, has been ice cold to opponents including the NYG with 4 below average games. Almost put this up there but wow, WAS has been very tough as an opponent
ATL vs. CAR has a top 10 sacks/to and ATL has had two breakouts in the last 5 but CAR in the last 3 weeks has been cold as an opponent. CAR has had some easier opponents however but this didn't get high enough to make the cut.
NE vs. HOU - NE is now the number 2 defense with four of their last 5 as above average with 3 breakouts. However, HOU has been the third worst team to face this year with no breakouts given all year.
JAC at NYJ - JAC is the second worst defense this year and facing a very generous NYJ team but with the benching of Sanchez and JAC doing so terrible, I couldn't quite put it up there.
I could use some help from the forum if someone wants to adjust this lineup. Good luck all!