c1turbo wrote:Any path of least resistance?
As you like it:
The following tables show the passing offensive power of a team compared to how weak their matchup is in passing for the week. The same with rushing. NE is top of both lists as a matchup this week given that they have a very prolific offense going against one of the weaker defenses in the league. GB's passing offense vs. TEN's weak passing defense also makes it high on the list. MIA isn't so great a rushing offense as BUF is a weak rushing defense.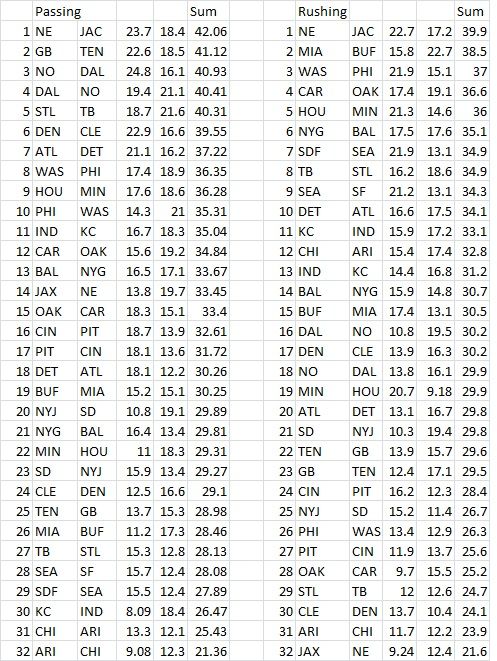 And the following is the path of least resistance. I take the passing rank and subtract the rushing rank for each matchup and then sort it. More negative is more likely the path of least resistance goes through passing. More positive means the path of least resistance goes through rushing.
STL has a path of least resistance highly favorable to passing. They have the 5th best passing matchup of the week against TB while their rushing power isn't that great and facing the 8th best rushing defense in the league. This suggests a good day for Bradford but not much from Sjax. I suspect another weak week for Bryce Brown who has only performed well against bottom tier rushing defenses while WAS is a top 10 rushing defense. On the flip side, it does look like MIA's path is much more in the rushing game vs. the passing game. SF also likely to have an easier time on the ground than through the air vs. SEA. And hopefully Josh Freeman can just not put the ball up for grabs this week vs. STL and let his studly RB do all of the work. STL is 27th in rushing defense vs. 6th in passing defense.
This system has never been validated and it's very tough to do so. Offenses have a personality and will stick with it as it 'works' even if the path of least resistance is through a less strong character. DAL defaults much more to tony romo even if their path of least resistance goes through DeMarco Murray. BAL prefers to run it in vs. pass it in. Just their personality. No matter how good the rushing matchup, SD just trusts Rivers more than Mathews. They could win more games but then there's the insecurity of trying something new. But other teams are more likely to go with the path of least resistance to score points even if it goes against that team's overall 'persona' or can attack in either sphere. SEA can blow up passing one week, rushing the next. SF is much the same way as is Houston. Depends on the character of the team and just how easy the path of least resistance gets.
When there is no major difference in the path of least resistance, teams do tend to go with their strengths whether it's passing or rushing.
Hope it helps although I'm always hesitant to put it out there as it lacks a validation study.