POST MORTEM:
Not a particularly good week for the Analyzer. Only 3 breakouts and 7 above averages. Fantasy Pros, who I had predicted would beat me out this year and Bleacher both had 5 breakouts picked and 8 above averages. Fantasy Team Advisors had the most breakouts iwth 6 and 7 above averages. FFtoolbox had the worst week with 6 above averages and 4 breakouts. In all, two lists better with FPros and Bleachers, Analyzer worse than ESPN and FTeam Advisors and KFFL and about the same as KFFL and FToolbox.
Looking at teams picked by list
SEA and STL were picked by all 7 and had one breakout
CLE chosen by 6 and had a breakout
KC by 5 and had a breakout
So of 5 and above, 75% breakout, 25% below average. Picking by this fared better than all of the other systems but only 4 teams to choose from.
Of those with 4 picked, BUF had a 4, CAR had a 9, BAL had a 7, ATL had 3, SF had 22, NE had 12, HOU had 0
Or 2/7 breakout, 3/7 above average or 28% breakout and 42.8% above average
If we take all of 4 and above, we have 5/11 breakouts and 8/11 above average or 45.5% breakout and 72.7% above average.
Of those with 3 or fewer, PHI had 9, DET had 1, MIA had 12, CHI had 2, DEN had 4, NYG had-3, GB had 9, TEN had 6 and CIN had 15
Or for 9 teams, 2 breakouts and 4 above average or 22.2% breakout and 44.4% above average.
It's early yet, pressing on!
DEFENSE ANALYZER
The Defense Analyzer was originally developed based on a statistical analysis of correlation between particular stats (sacks, turnovers, TDs, points against) to determine which combination was most predictive of a break out game (10+ or more points). The analysis showed that while a defense that allowed the fewest points is great in real life, from a fantasy perspective, sacks and turnovers were more predictive of a good fantasy score. Largely because the median score for points against (in the 20s) provided almost no points to a defense but sacks and turnovers were positives. TDs obviously have an even bigger impact but other than sacks and turnovers, are very hard to predict.
My method is to take the matchups for the week, use the defense's Sacks and weighted Turnovers average per game and compare it to the sacks and turnovers given up by the opponent every week. I sum them to get a score. After I do that, I look at the individual performance of the defense as well as opponents. Last year, playing the defense that faced STL every week was better than SF (the number one defense in my league).
The following figure shows the rank, defense, their opponent, the TO/S score for each and then the sum. CHI gets an average of 7.2 ppg from sacks and turnovers and NYG gives out 9.8 ppg from turnovers for a sum of 17.

The following shows the defensive production on the left and how generous the opponent has been on the right.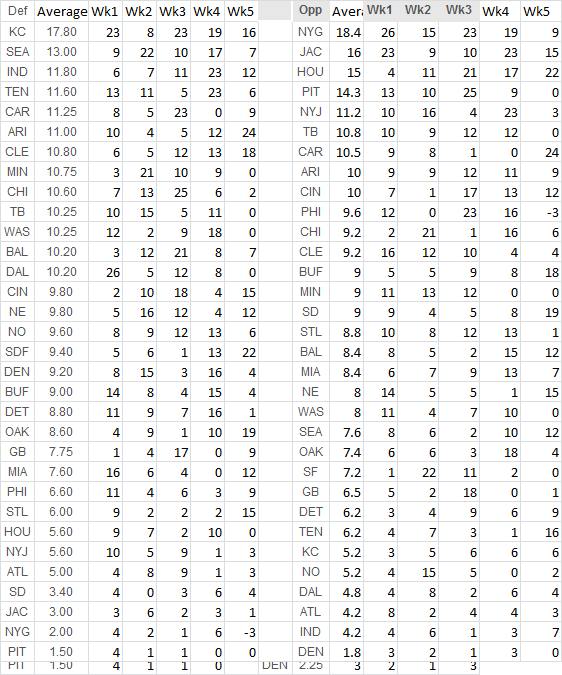 Home-Away Bias
The following ranks defenses by the difference in performance whether at home or away.
For example, CIN has scored 12 points more on average at home than away. CAR has given up 11 points more away than at home on average.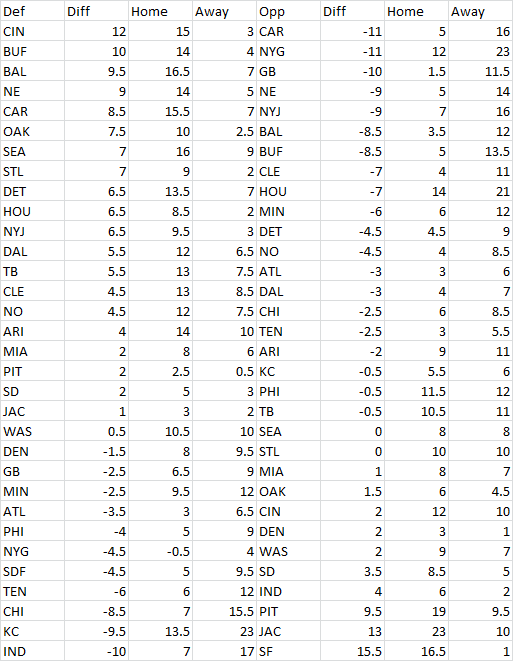 Final Ranks:
1) DEN vs. JAC - DEN has 3 above average and 2 breakouts facing a JAC team with 5 above average and 4 breakouts. This has destruction written all over it. My guess right now is that JAC will be the team this year that starting anyone against will get you more points than nearly any defense in the league.
2) CHI vs. NYG - CHI has been up and down as a defense with 2 breakouts facing a giants team that has given 5 straight above average and 4 breakouts in the first 5 weeks. Giants tend to do worse away and CHI tends to do worse at home so gave this a high rank.
3) KC vs. OAK - KC is the top ranked defense with 5 above average and 4 breakouts facing an OAK team with only one breakout in the past 5 weeks. Lower than CHI because of the opponent.
4) MIN v. CAR - MIN has had 3 above average and 2 breakouts in 4 games facing a CAR team that has give 3 out of four above average but only 1 breakout. Trends for above average are solid and a high s/to. CAR is much more generous away than at home and MIN does fine at home but always a gamble knowing what MIN's offense will do.
5) SEA vs. TEN: SEA is the second best defense in the league with 4 above average games and 3 breakouts. TEN however, has been stingy with only one breakout and no other above averages given out in 5 weeks. But as with last week, they hadn't faced a truly premier defense until KC where they gave a breakout. I think it's safe to start SEA. SEA has also traditionally done better at home than away.
6) SF vs. ARI - SF has had 2 breakouts in a row facing an ARI team that has given nothing but above averages to opponents and 2 breakouts.
7) BUF v. CIN - As noted in last week's debacle of picking BUF, BUF has averaged about 10 points more at home than away and CIN doesn't have much of a trend that way. BUF has had 3 above average and 2 breakouts and despite wins, CIN has given 3 straight breakouts in a row.
8) CAR @. MIN - CAR has had 3 of four games with above average and 1 breakout facing MIN who has given 3 of four breakouts and a zero. CAR does much worse away as a defense than at home however and MIN gives almost a TD's worth less so far at home than away so lowered enthusiasm slightly. This will be a in interesting test of the homeaway hypothesis as this looks good on paper otherwise.
9) TEN @ SEA - TEN has 3 of last 5 as breakouts but also 2 below averages facing a SEA team that has given 2 breakouts in a row and 3 above averages. TEN seems to do better away but this had less good trend data than CAR.
10) CIN @BUF - CIN has had 3 of 5 as breakouts facing a BUF team that has given 3 above averages but only one breakout. CIN also has done about 12 points worse away than at home and BUF is much less giving at home than on the road. Another good test for whether the homeaway analysis is worth it as this looks like a lower top 10 pick otherwise.
Riskier:
NYJ v. PIT: PIT had given out 4 straight above average games and 3 breakouts and but the jets have only had 2 above average games this year. The Jets play much better at home while PIT is actually less generous away so I think that's a wash. The S/TO and trend analyses were pretty good. This was tough not to put into the top 10 over CIN. Let's see what the other lists say.
STL @ HOU: STL has had 2 above average and 1 breakout in 4 games but face a HOU team has given 4 straight breakouts. However, HOU has faced TEN, BAL, SEA and SF in the past four weeks with the first 3 being top third defenses. STL is more of a weaker defense with only one break out in 5 weeks so I didn't put it up there.
DET @ CLE - DET has had 2 breakouts and 3 above averages facing a CLE team that gave 3 breakouts out of 5 but then two duds in a row. DET does about a TD's worth less away and CLE gives up about a TD's worth less at home. Similar to CIN, this seems to be a direct test of the homeaway theory.
PIT@NYJ: PIT has been the worst defense this year with 4 straight below averages. Although NYJ have given 3 breakouts out of 5, there wasn't enough there to think PIT could get it going against them.
PHI @ TB: TB has given 4 straight above average and 3 breakouts facing a PHI team that has 2 above averages (1 breakout) in the first 5 weeks. This didn't have a good s/to ratio so it didn't make the top 10 but could be a sleeper pick.
Things to watch:
STL had given four straight above averages but JAC didn't convert it (as expected). Trend data alone doesn't work.
BAL has been blown out week one but then rallied nicely but last week had a pedestrian outing vs a midling MIA team.
CIN had been hard to predict although the homeaway analysis suggests that they really do better at home. They're away this week so if they do poorly, this would confirm the value of the homeaway.
BUF had a solid s/to and trend analysis last week but ended up a dud and they also have a stronger showing at home. Again, will be interesting to see if they do well against CIN this week.
Good luck folks!