POST MORTEM: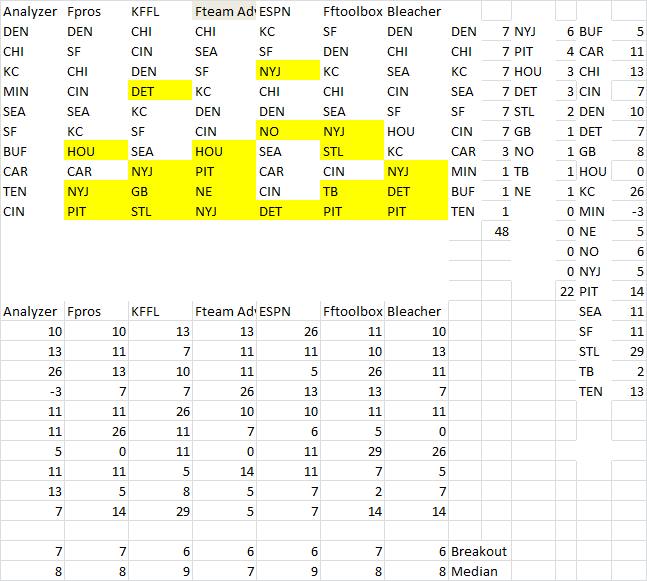 A better week for the Analyzer than last week. We had 8 of 10 as above average games and 7 as breakouts. KFFL and ESPN both had one more above average but one less breakout and the other lists had similar above average and breakouts.
For those teams that 4 or more lists picked, 75% had an above average score and 75% had a breakout. For those that had less than 4 picking them, only 36% had an above average game and 27% had a breakout.
While the 4 and up category doesn't fare any better on average than any particular list, those with less than 4 choosing do much worse than any of the lists.
Although a better picker last week, Bleacher fared the worst this week.
DEFENSE ANALYZER
The Defense Analyzer was originally developed based on a statistical analysis of correlation between particular stats (sacks, turnovers, TDs, points against) to determine which combination was most predictive of a break out game (10+ or more points). The analysis showed that while a defense that allowed the fewest points is great in real life, from a fantasy perspective, sacks and turnovers were more predictive of a good fantasy score. Largely because the median score for points against (in the 20s) provided almost no points to a defense but sacks and turnovers were positives. TDs obviously have an even bigger impact but other than sacks and turnovers, are very hard to predict.
My method is to take the matchups for the week, use the defense's Sacks and weighted Turnovers average per game and compare it to the sacks and turnovers given up by the opponent every week. I sum them to get a score. After I do that, I look at the individual performance of the defense as well as opponents. Last year, playing the defense that faced STL every week was better than SF (the number one defense in my league).
The following figure shows the rank, defense, their opponent, the TO/S score for each and then the sum. This week, KC is playing HOU and have the best matchup in the league from a sacks/turnover perspective.

The following shows how good a defense has been on the left and how generous an offense has been on the right.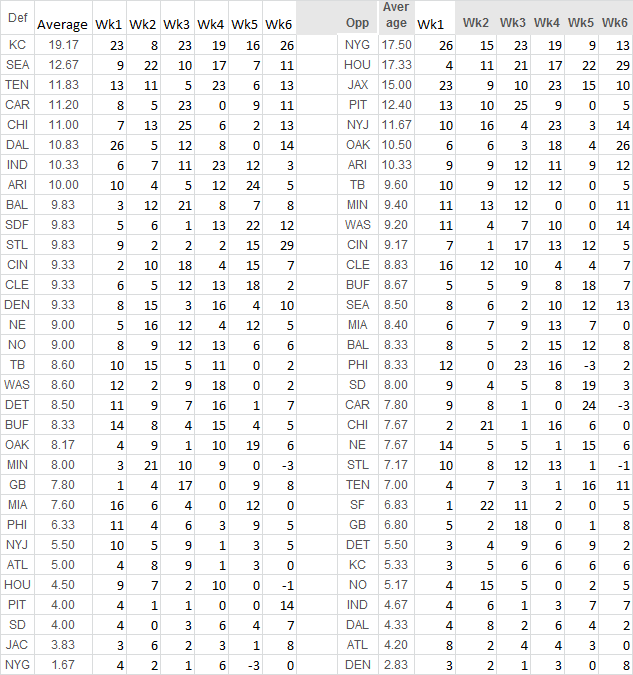 The KC Chiefs are truly the CHI of this year with 5 of their 6 games being breakouts and 3 going over 20 points. DEN has not performed as well as pre-season lists had predicted prodcucing 3 breakouts in six games and a middle of the road average.
The Texans have given 5 straight weeks of breakouts with 3 scores over 20. JAC again gave a breakout and has yielded nothing but above average games all year. PIT, however, dropped a 5 point dud this past week suggesting that riding them much longer may not be as roductive. Same wtih TB who had previously given up 4 above average games and CLE has given their third below average game week in a row.
Home-Away Bias
And the following shows the homeaway analysiswith the defense on the left ranked by how much better they do at home than away and on the right how much worse the individual is away than home. For example, CIN has a median score 12 points better at home than away. CAR has a median 11 points more given out away than at home.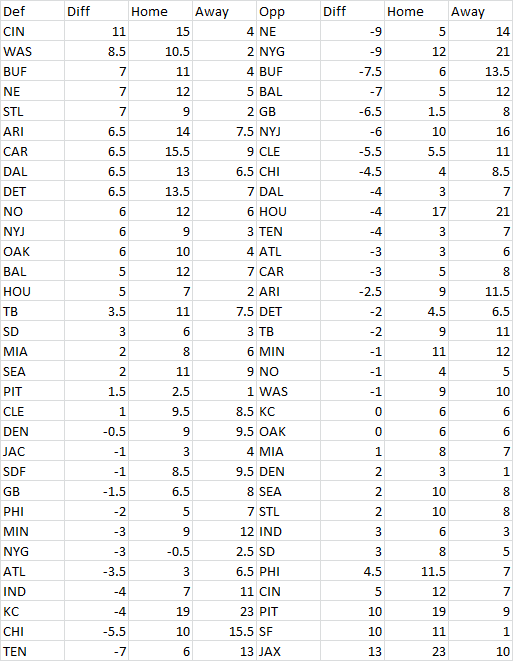 Final Ranks:
1) KC vs. HOU: KC has the top s/to rank, 4 of last 5 as breakouts and 5 straight above average facing a HOU team that has given 5 straight breakouts.
2) MIN@NYG: MIN just came off of a dud of a game but have had 3 above average games with 2 breakouts just before that. NYG have given 4 of the last 5 as breakouts and 5 straight above averages. They have the second best S/TO ratio.
3) SEA@ARI: SEA is the second best defense with 4 of the last 5 as breakouts facing an ARI team that has given nothing but above averages and 3 breakouts in the last 5 weeks.
4) BAL@PIT: BAL has had 4 of last 5 as above average with 2 breakouts and PIT has given 4 of last 5 as above average with 3 breakouts. Although a dud last week vs the jets, BAL is a higher class of defense than the jets.
5) CHI@WAS: CHI has had 3 of the last as breakouts while WAS has given 3 of the last 5 as breakouts. CHI does slightly better away than at home while WAS shows no trend. This and the NE game were very close in rank.
6) NE@NYJ - NE has 3 above average but 2 duds in the last 5 weeks and the jets have given 3 breakouts and 2 duds. Although a high s/to, this was lowered on the trends. NE does almost a TD worse away than at home and NYJ give out about a TDs worth less at home than away. Lowered enthusiasm
7) SD vs. JAC: JAC has given 6 straight above average and 5 of 6 breakouts. SD has been a dud all year without a single above average game but the consistency of JAC is what puts this up as a trend. Always good to test the trend hypothesis.
8)ARI v. SEA - Crazy huh? SEA however, has given 3 straight breakouts (and 2 duds) in the last 5 weeks while ARI has had 2 breakouts and 3 duds. It actually has a fairly high s/to ratio. ARI does over a TD's worth better at home than away and SEA shows no real trend home or away. This kinda tips enough for ARI to scratch the top 10.
9) SF@TEN: SF has had 3 straight breakouts playing a TEN team that has given 2 straight breakouts. A midling s/to ratio and midlign trend data but with picking so light this week, pulled this one up to top 10.
10) DAL@PHI: A poor s/to ratio but DAL has had 4/6 above average with 3 breakouts playing a PHI team that has cleaned up the last two weeks with duds but prior to that had a pair of breakouts. Again, slim pickings.
Riskier play:
DEN@IND: Although DEN has had 3 breakouts in the last 5 weeks, IND has been cold with zero breakouts and zero above averages given out in 6 weeks including vs. MIA, SF and SEA.
MIA v. BUF: Despite a high sack/to ratio, this didn't fare well in trend analysis. MIA has only 1 breakout in the last 4 games and the rest duds. BUF has given one breakout and 3 above averages but two duds in the last 5 weeks.
GB v. CLE: GB has had 3 above averages but only one breakout playing a cold CLE team that has given 3 straight duds. CLE does seem to give more away but otherwise, I could't find much in the stats to put into top 10.
STL@CAR: STL has had a little minirun of 2 breakouts in a row but 3 straight duds before that. CAR has been up and down giving 24 away to ARI but -3 to MIN. There's nothing special here that makes me put this higher.
CLE@GB: CLE had a nice little run of 3 breakout games before dropping a dud last weekvbut GB has only given one breakout all year and one other above average. Just couldn't see it.
CIN@DET. CIN has done a lot worse away than at home with 11 points worse on defense. CIN has had 3 of their last 5 as breakouts but DET has been cold with no breakouts all year and only 2 above averages
Things to Watch:
HOU has changed qbs and although Yates tossed a pick 6, will this change HOU's generosity?
JAC surprised the broncos by playing tough through two quarters. Is there a change in their productivity?
PIT saved some face last week but will it last?
DEN gets Von Miller back to practice but I doubt he'll get into the game very quickly. Still, that pass rush has been missing their best weapon and perhaps DEN starts to show more consistency as a defense(?).